News has just broken from the US that Yahoo have relaunched and redesigned Flickr. No more old, tired looking Flickr and new full screen design. Looks stunning and they've obviously been working seriously hard since Marisa Mayer joined.
I saw this news start to break and then got a Tweet from Olly Wainwright saying:
@andymatthews did you see you just appeared in Flickr's presentation in NY?
So, click through the link and what… yes that's my photo being shown live to millions of people, below a picture of Barack Obama! See 5:27:33, or as below. I'm thrilled that my photo was shown in this context!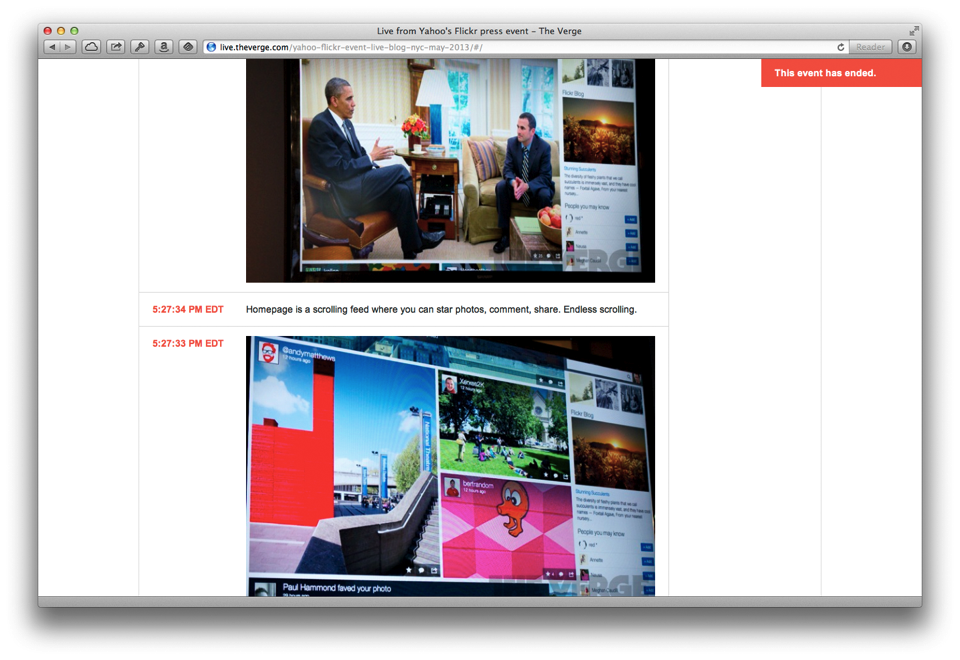 So how did this come about? Well a while back I bitched and moaned about Flickr and the lack of development. This got a few retweets and some traffic to my site as well as catching the attention of two Flickr engineers, pkingdesign and spierisf. The former was the one who contacted me with the offer of a t-shirt. Shortly after this a series of improvements were made as well as a new iPhone app.
But today is a series of even bigger and better improvements, I'm still looking around it but first glance it looks incredible. I just wish I had chosen a different URL all those years ago!