Home lump cycling
It's all been quite difficult working from home these last few weeks for lots of reasons and I've been making do with using the turbo in the garage and also some running in the local park. I want to venture further afield but not super keen on riding on my own at the moment and not many options to get back if something does go wrong. I'd kind of had enough with the garage Zwift thing for a bit and decided that maybe I'd try and find some way of cycling outside properly but not straying too far from home. I usually do an hour in the garage on Zwift so thought that perhaps an hour outside would be a good target but see what I could achieve in that whilst staying as local as possible. Distance wasn't going to be huge for an hour but no different to Zwift. Perhaps some hills and raise the HR for a bit…
Rather than plan a big route around South London with lots of hills I thought I'd make the most of what's on my doorstep. I live at the top of a hill, Denmark Hill, and there's lots of different ways of approaching it and wondered if I could ride every single way up, no repeating, in an hour? Normally I'd plan a route in ridewithGPS but in the end just went out on the bike and worked out a mental map of the place which was far more engaging. Rather pleasingly it all worked out in an hour! I also had Queens of The Stone Age on in one ear which seemed to help.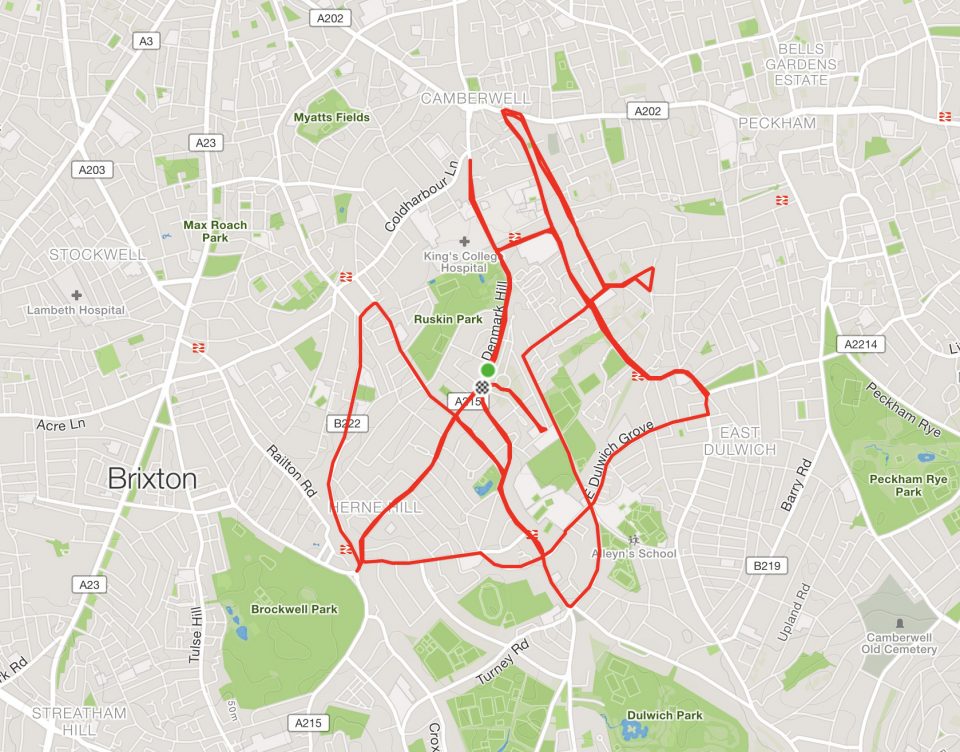 Looking at it again now it looks like I've missed one out through the park but maybe I'll do that next time. In terms of climbing I got close to 300m in an hour which isn't too bad allowing for stopping at traffic lights etc. Not exactly epic by any stretch of the imagination but kept me occupied for an hour and an enjoyable mental exercise planning which bit to ride up next. Felt terrible before I went out but felt incredible when I came back. A feeling I hadn't quite had on the turbo. Just need to keep doing more of this to keep the mind in check.
Oh and also saw Sandi Toksvig in a Smart Car in East Dulwich.