I used to use Zwift in the winter or recovering from injury (two broken collarbones and a broken wrist) and had a fairly basic turbo and crank based power meter for it and managed to get quite a bit out of it in previous years. One year I'd done lots of Zwift and singlespeed mountain biking over winter and was the fittest I'd ever been in the spring. The joy of just tearing past friends on the hills was hard to beat but hadn't quite got back into the habit since. That and not really doing much road riding generally but that's another story.
I splurged on a new Wahoo Kickr Core at the end of last year (thanks RCC discount / PayPal credit) but hadn't used it that much or felt inclined to train too much since. Of course then the lock down arrived this year and I was really quite pleased I'd got one. I'd heard a story of Sigma selling a couple of hundred smart turbo units in two days! Like hens teeth it seems as everyone adjusts to workout indoors and trying to get whatever exercise they can in and buys up all the kit.
Zwift for me previously was all about doing a horrible interval session, getting it done and jumping off the bike and getting out of the garage as soon as possible. This would usually only happen over the winter months and as soon as the weather improved the kit would be packed up, subscription cancelled and then back out on the road. I'd even made a rule to make sure all Zwift rides were marked as private on Strava with the faint idea that secret training would be fun to surprise people with in the spring as well as keeping people's feeds with one less crappy garage ride. But then lock down brought a slightly new dynamic to it…
As well as the feeling of isolation it wasn't possible to get normal exercise rides in, riding to work, a chatty ride around the park, a weekend MTB ride etc. I discovered the group ride function and invited a few people to 'Zwift meet-ups', I mean it sounds terrible and I'd never normally do it but needs must. I fucked up the technical details of my first one and missed my own ride but they're good fun and a good work out. I had a phone call with my friend James on one and pretty good to just chat about the day before it got a bit too hard to talk. And then I've had a video call with David, again pretty good and a bit more of a sense of connection. Funny to get this pic from him after, kindly taken by his wife. Andy on a stick!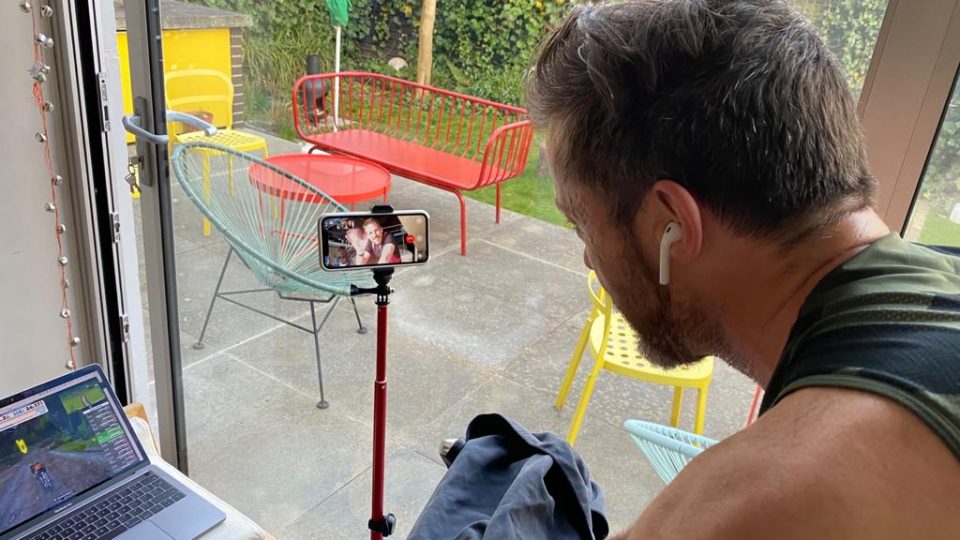 It's no real substitute for the great outdoors but doing what we can to stay the fuck indoors I guess, especially in London. I've joined a few other group rides, one of which almost destroyed me going up Alpe Du Zwift. An supposed hour ride took two hours, stubbornness kicked in to keep me there but even so. The game type feel of chasing people down, raising the speed in the group and all the other childish things we do on rides sometimes can be done virtually and is a bit of a giggle at times.
Probably the best thing I've discovered is that dragging my fat arse out of bed at 6.30am and getting on the turbo by 7am has a huge effect on my mental wellbeing. Do the exercise first thing, get it done and then enjoy the day. Just try and stay awake! I'd still really like a mountain bike ride with friends though.