Canal club
On Friday night a few friends and I headed out to meet up on the Kennet and Avon canal after work with the intention of riding along for a bit and then finding a spot to bivvy before then heading on to Bath the following morning. We would then get coffee and do a loop around Cheddar Gorge then back in towards Weston-Super-Mare. Well that was the plan at least.
On the Thursday I set about getting my stuff together. Lots of faffing as usual and packing for all eventualities. Start out with having a bit of rough idea of what is needed and then completely change it all. Check weather, repack, squeeze it all in, find all the things you missed, give up in a huff and go to bed and resolve to pack the rest in in the morning.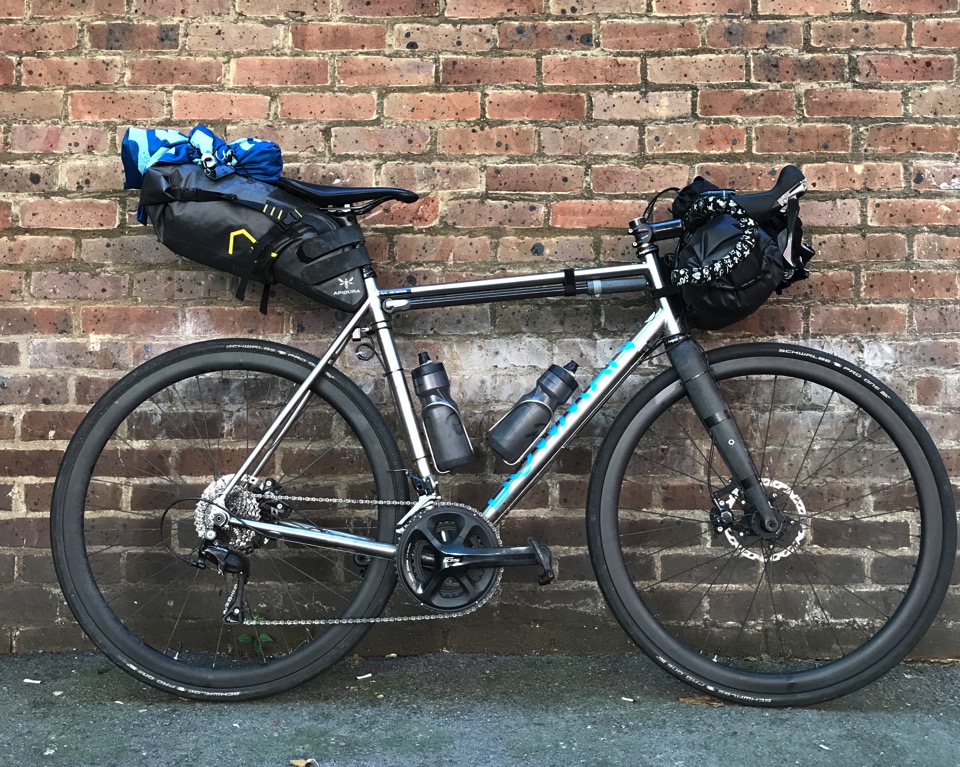 I was going straight from work so commuted to work fully loaded with kit. A few intrigued and perplexed looks from a few of my fellow cycling commuters. The occasional knowing look about why I had all this stuff on my bike. Of course one decision to make was whether to take my CX bike with 40c tyres or the Pilgrims Disc with 28s. As it was going to be a mixed route there would be no best choice. Big 40c tyres for the canal to save getting beaten up but then slower on the road? Or go for a bit bumpy on the canal with 28s but then more speed and efficiency on the road bits of the route. I went with the latter mainly due to dynamo and wanting to enjoy the road sections. I'm still not sure if this was the right choice but then as it was almost 50/50 on canal vs road there wasn't really a right or wrong.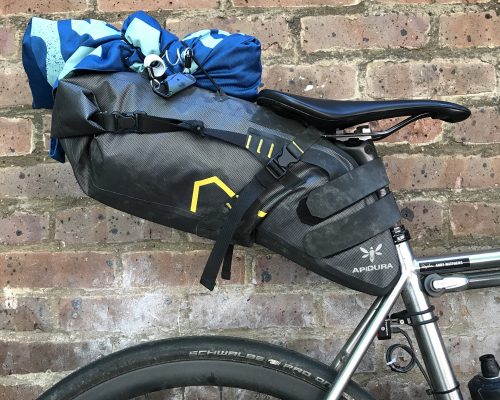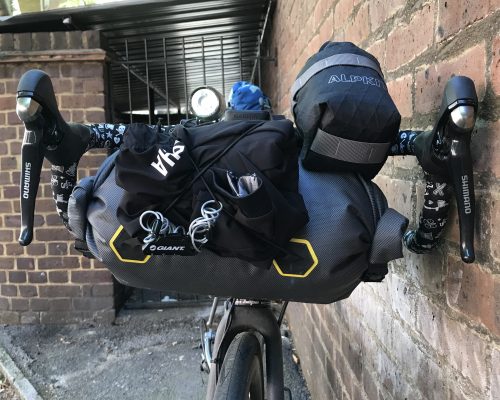 Getting to work all I need to do was collect some tickets at lunch, purchase the usual porridge pot and breakfast bits before getting through work to escape on time at 6 and to jump on the train. Adam and Andy had a bit more flexibility with getting out of work so were going earlier to Reading with Robin and I following on and jumping off at Newbury. The intention being to get going along the canal for food just before 9 at a pub I had booked a table at. This soon unraveled due to Andy hitting some glass outside of Reading and slashing his tubeless tyre open. An anchovy wouldn't fix it and it ended up with a tube going in. We had kept on going but then found a pub to wait for them to catch up.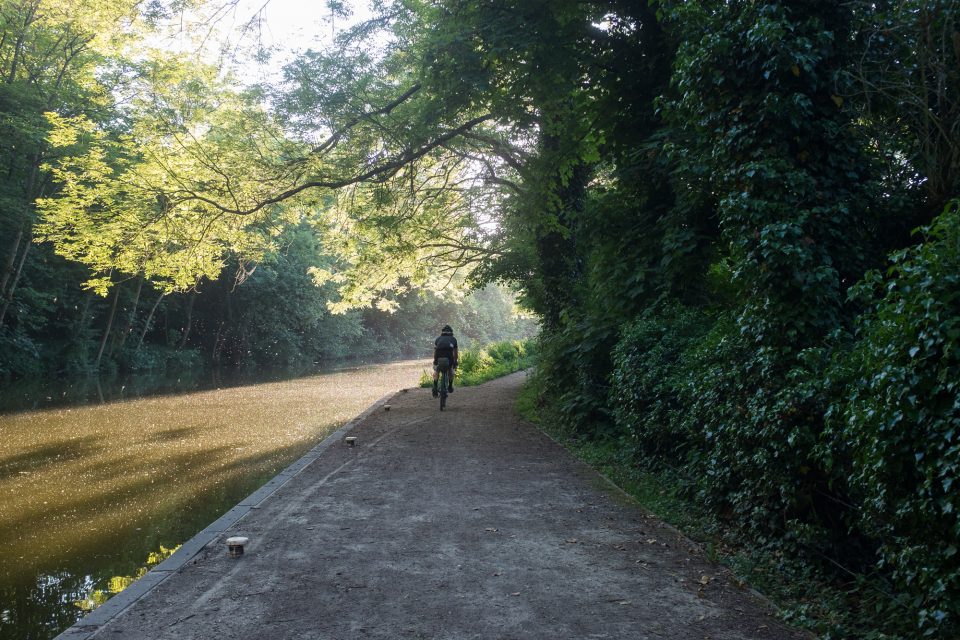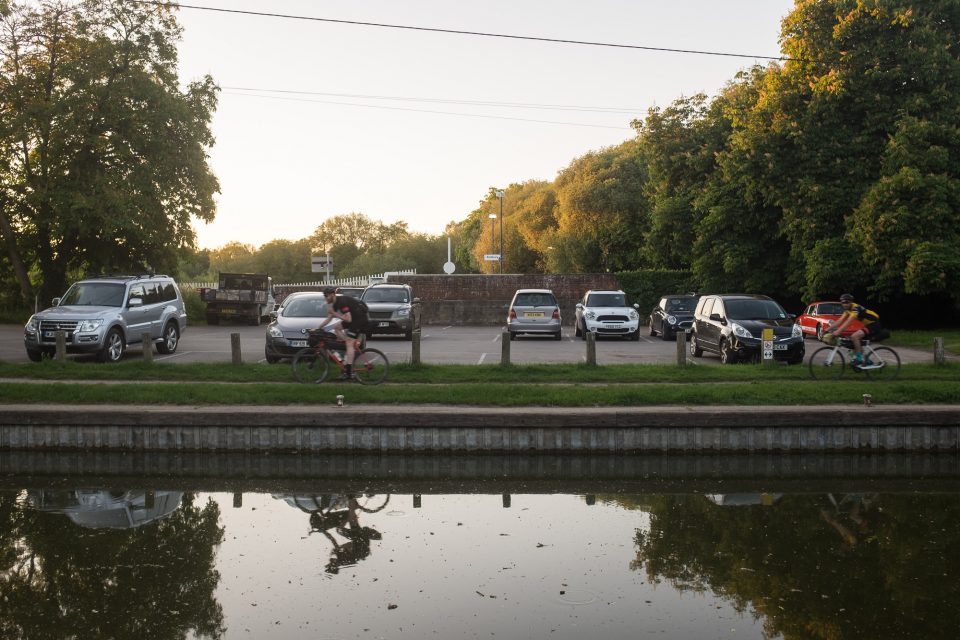 By the time we managed to regroup is was 8.45 with food options rapidly disappearing. The pub we were in served food tim 9 unless you actually wanted to order food. So a quick sprint up the hill to another pub in the village and a round of pizzas and pints each. The bar woman said closed but her boss said open. So four pizzas and pints ordered. We all order garlic bread with our pizza but it was actually the size of the pizza so essentially we all had double pizza. Sadly they only had two tiny pizza ovens so it came out in dribs and drabs but it was food nonetheless and the beer was very welcome.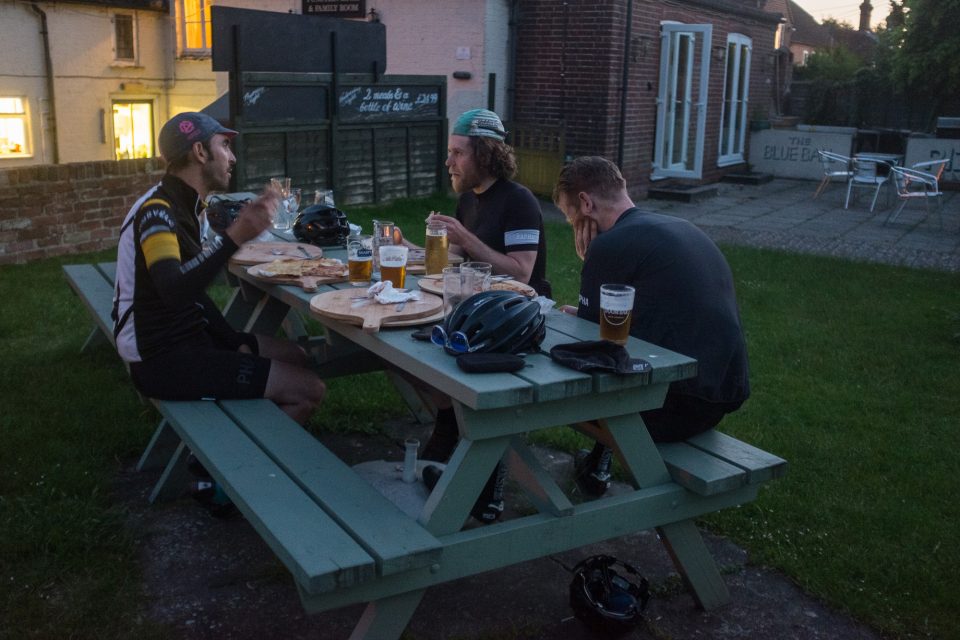 After that it was back onto the canal which by this time was pitch black. Andy's tyre went awry again due to a thorn so mended that again and then headed off to find somewhere to sleep. There were so many bugs around the canal that we wanted to get up and off this area and ideally to slightly higher ground with a view.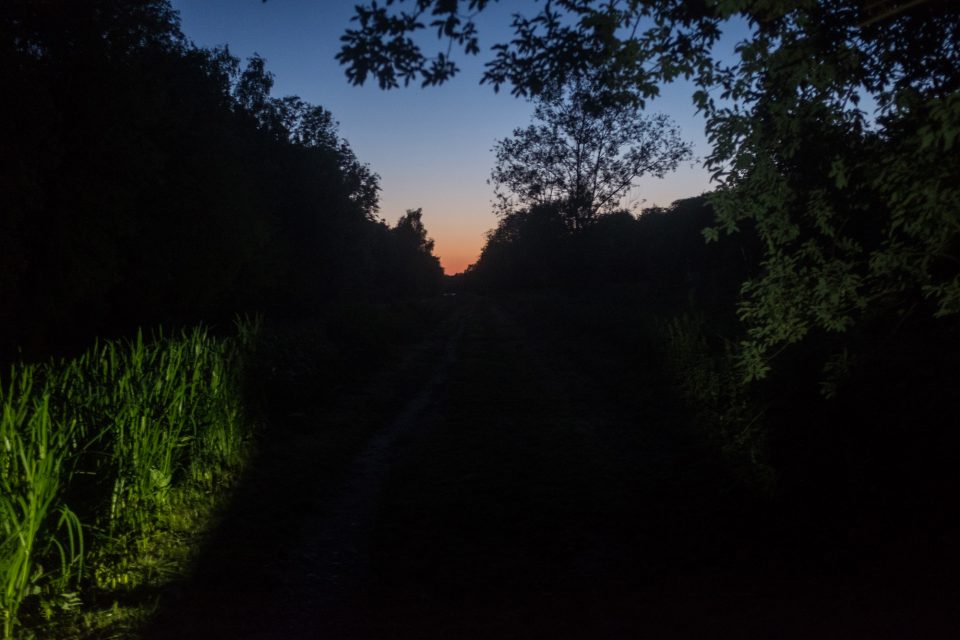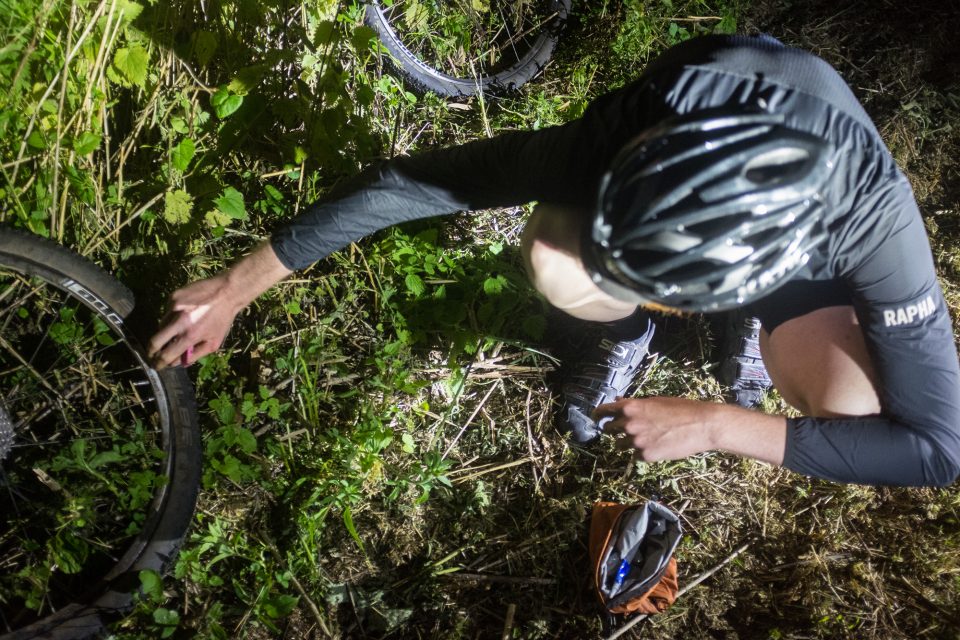 This is obviously harder in the dark as you can't just look up and see what's around. A few quick checks on the phone for a satellite view and we headed up and off the trail. Over the A4 and up on a path around a field. By pure chance we found a lovely big oak tree with a bench underneath. It wasn't as remote as some places I've slept but it was late and it was good enough.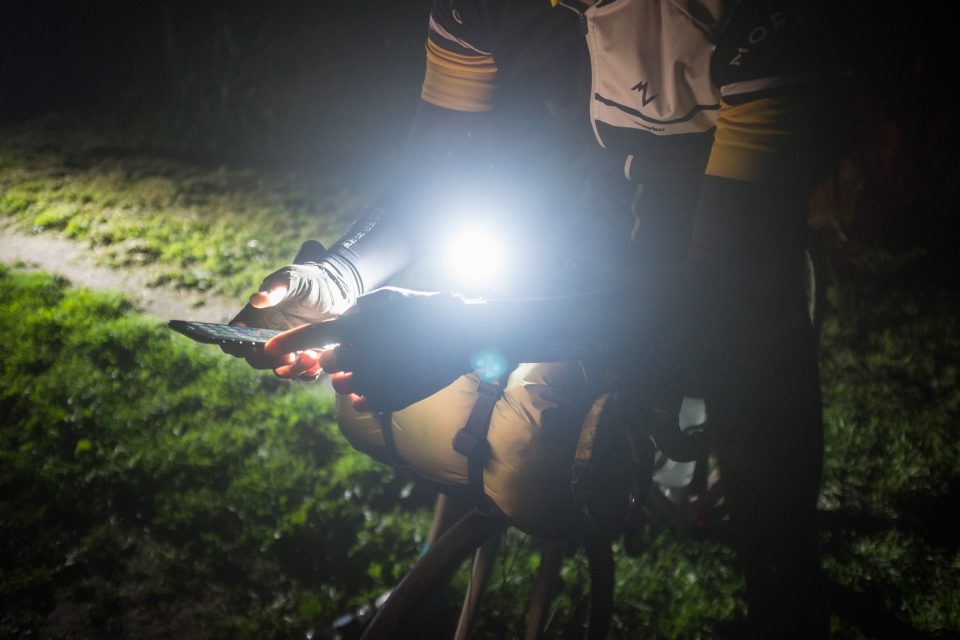 Bags off, and kit out we set up an improvised camp using a tarp over the bench and then around the tree. It was likely to rain in the morning with a storm on its way. By this time we had sat down on the bench and started sipping whiskey from the hip flask I had brought. Vic was also meant to be joining us but had been delayed. We had sent her our location and Adam had given some instructions and remarkably we soon saw her light tracking up the hill towards us. She set up her bivvy although preferring to sleep out under the stars.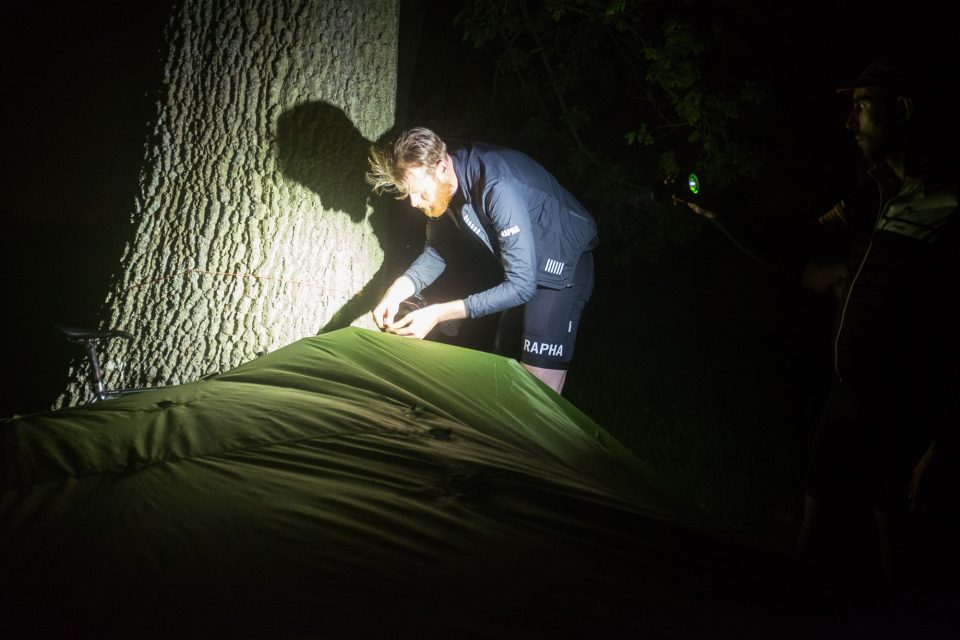 Whilst sitting on the bench I found a lump in my back and tried to see what it was. It turned out to be a little wooden handle to a compartment concealed in the bench. On opening it I found three little note books and a pen. Two of which had been completed and one with space to fill. Others had been and left notes about their day, what they'd seen or just random comments. My favourite being the page that simply said "ticking away the moments that moments that make up a dull day". I found it strangely moving that all these people had left a note about their visit to the spot. I left a note about why we had been there but also thought about all the other people who were likely to visit in the future. A slightly sentimental moment but resonated with me in a number of ways.
It was really warm and I woke up a few times being far too hot in my sleeping bag and bivvy bag. In hindsight I could have probably ditched the bag and just had the sleeping bag under the tarp.
At 4am the sun started to rise. My body also woke me telling me it was time for the loo. It was incredible to be up at this time with the sun rising over the horizon to the east and then a huge storm starting to appear in the west. I could see heavy clouds with streaks of lightning running through with the surrounding clouds morphing into a variety of colour as it developed.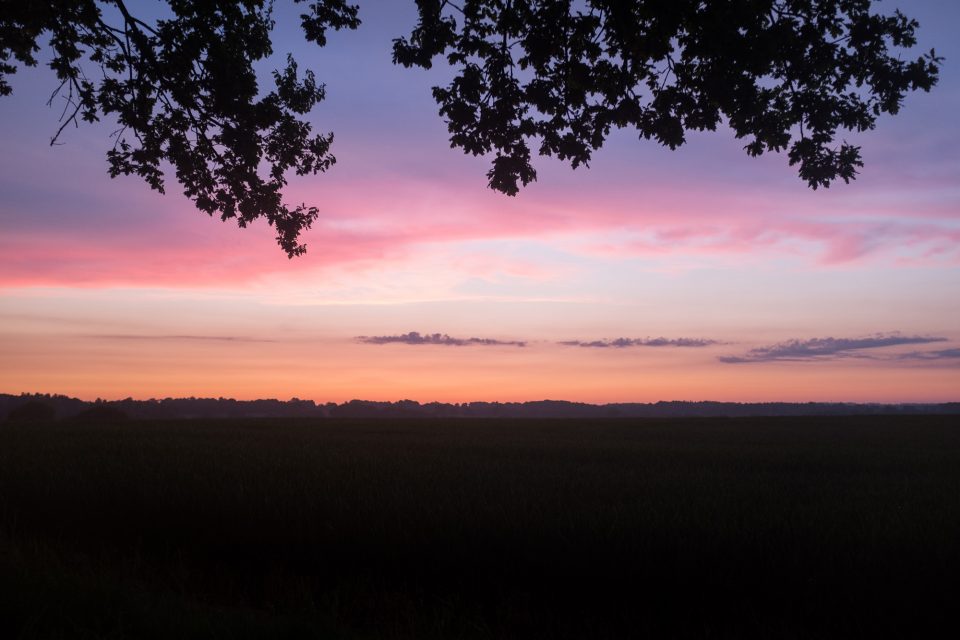 I sat on the bench admiring it all and then grabbed my sleeping bag to keep warm and let my eyes open and close a they wanted to. Others gradually woke and admired the view before rolling over and sleeping some more. I grabbed the bivvy bag and matt out from under the tarp and laid down with my head in the direction of the storm to keep watching it unfold. I drifted in and out of sleep and finally when I woke again a series of double rainbows were starting to appear.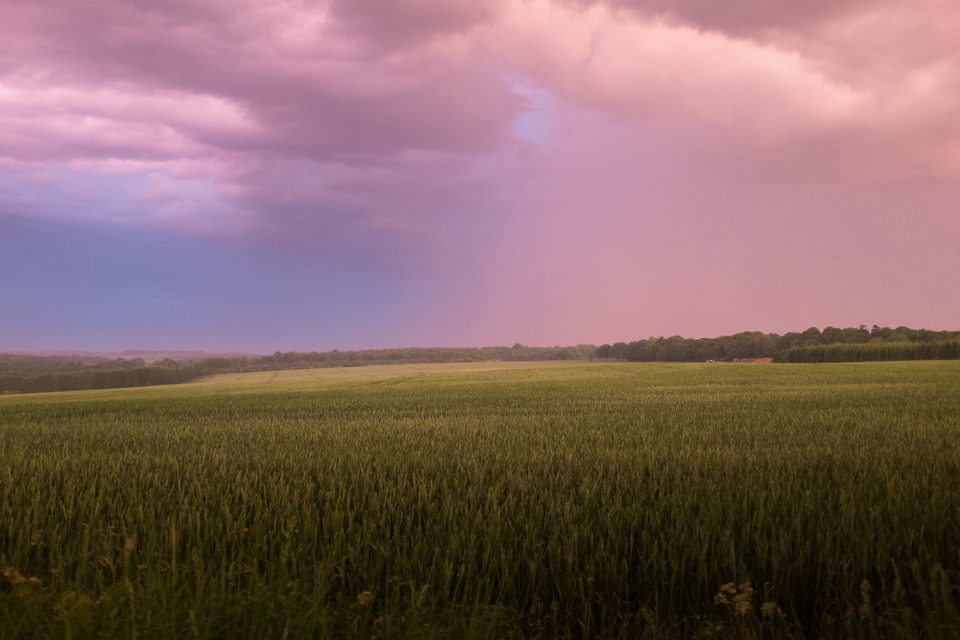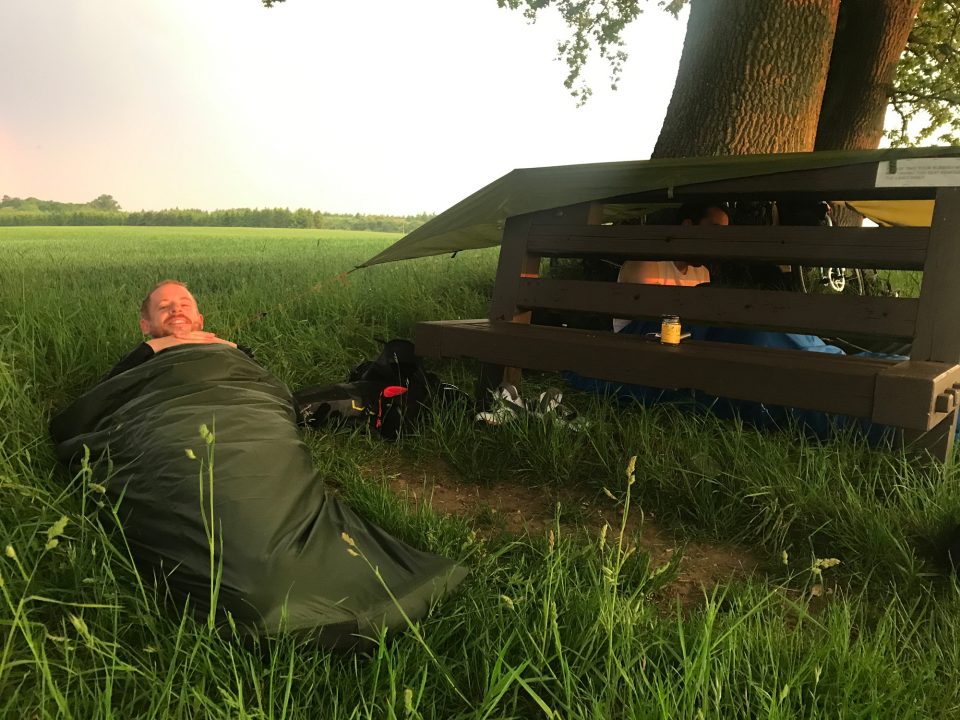 The storm then got close enough to us and started to rain a bit. All five of us then got under the tarp and waited it out as well as allowing a bit more sleep time. A few comments were made about being on top of a hill under a large tree in a storm but it was too late really and it didn't pass directly over us.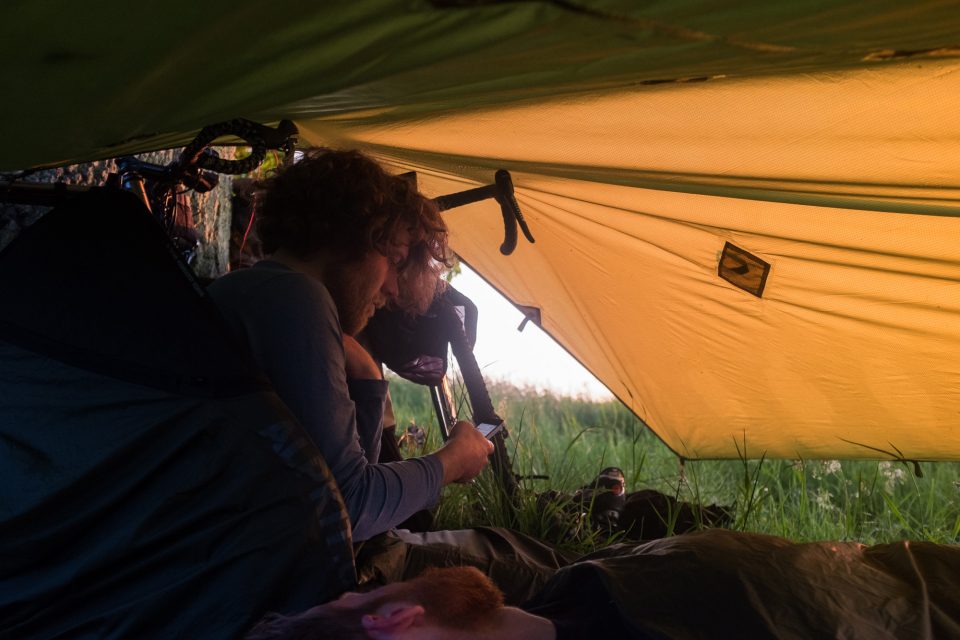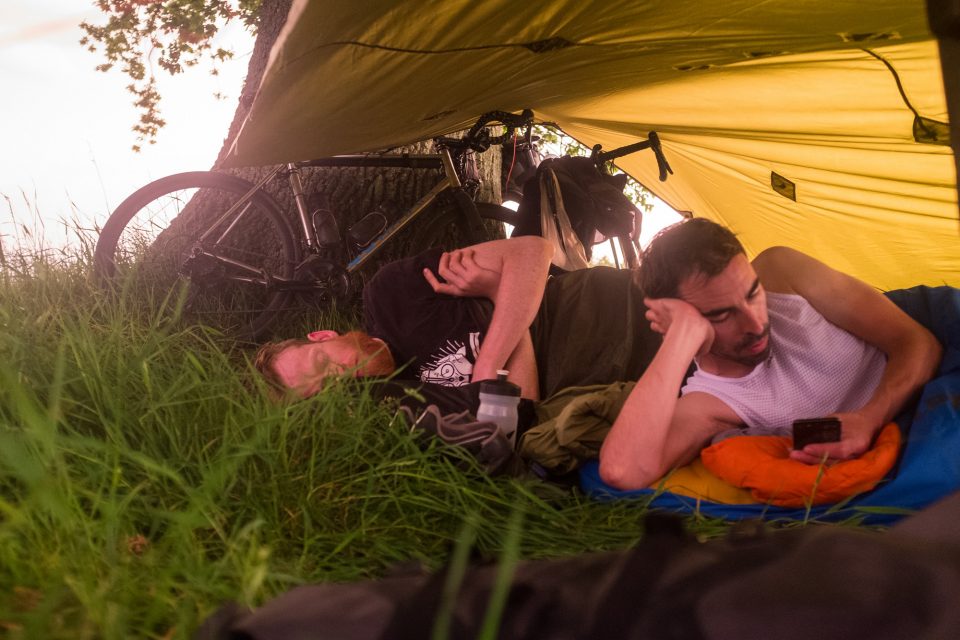 After that it was time to get up, pack everything down and get riding again. First coffee and some porridge to get us going. Instead of the 50-65km we had intended to on the Friday night we'd only done 20km which meant more to do to get out to Bath. Unfortunately it was also hard riding along the canal. Rough and bumpy in places and slower than the road. We were going to have to adapt or change our plans. The idea was to get to Bath, go for coffee and then make decisions on the best plan from there.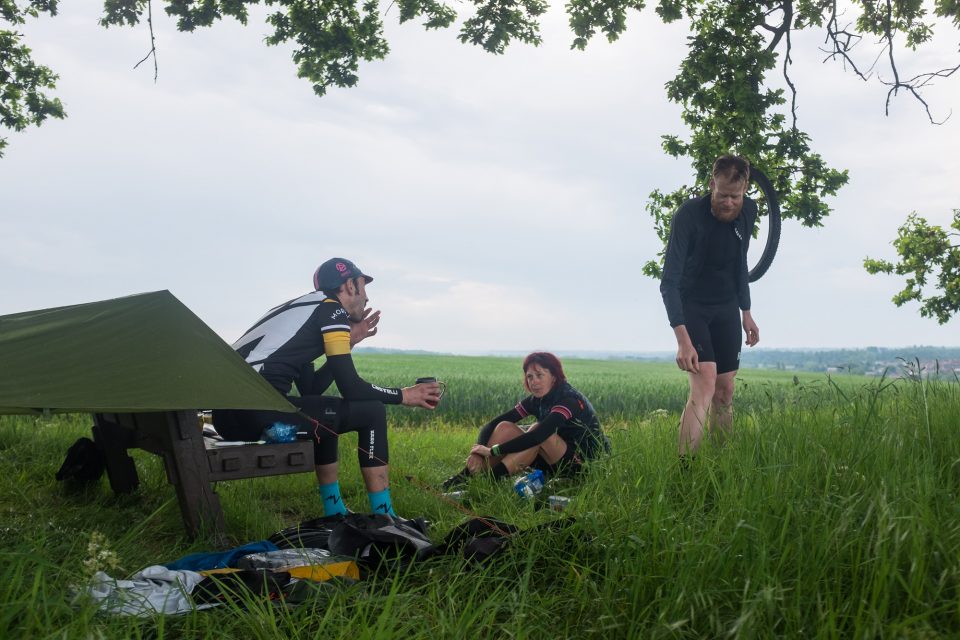 The canal was great although the air was a bit muggy and the sky was still a thick grey colour. I love riding along it and saying hello to everyone, admiring all the house boats, from the super well kept to the chaotic hippy type affairs, as well as all the dogs and wildlife around. We had a few swans who weren't keen to let us pass as well as geese and their goslings.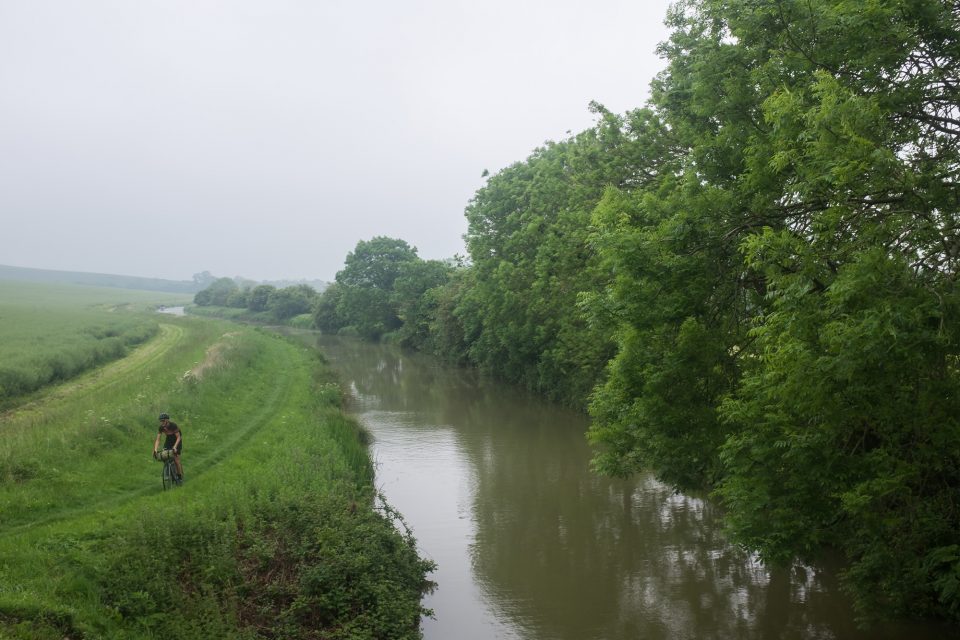 A momentary lapse of concentration left me laying down and sliding on my left side whilst still clipped in along the grass. Slightly more awake I got back on and vowed to concentrate more on the wet grass with well inflated 28mm tyres.
We pushed on although needed to cover quite a lot of ground to get to Bath. We needed some proper breakfast and found a cafe at Devises just next to the canal. We were all quite tired from the first section of canal and food and tea was wolfed down before returning to the canal for the section into Bath. Adam spent an inordinate amount of time in the toilet as we were ready to leave and received a large round of applause when he finally emerged.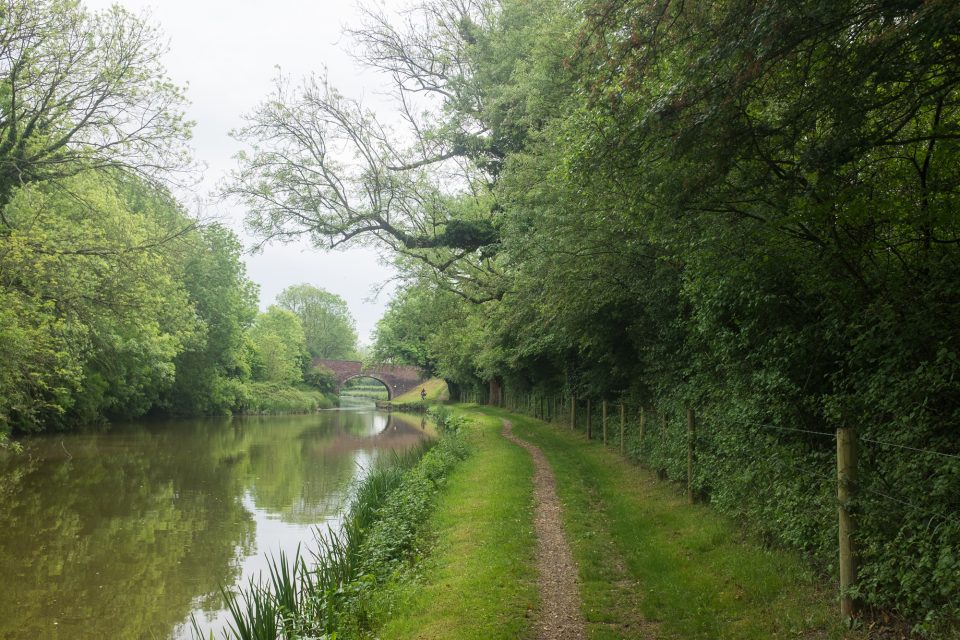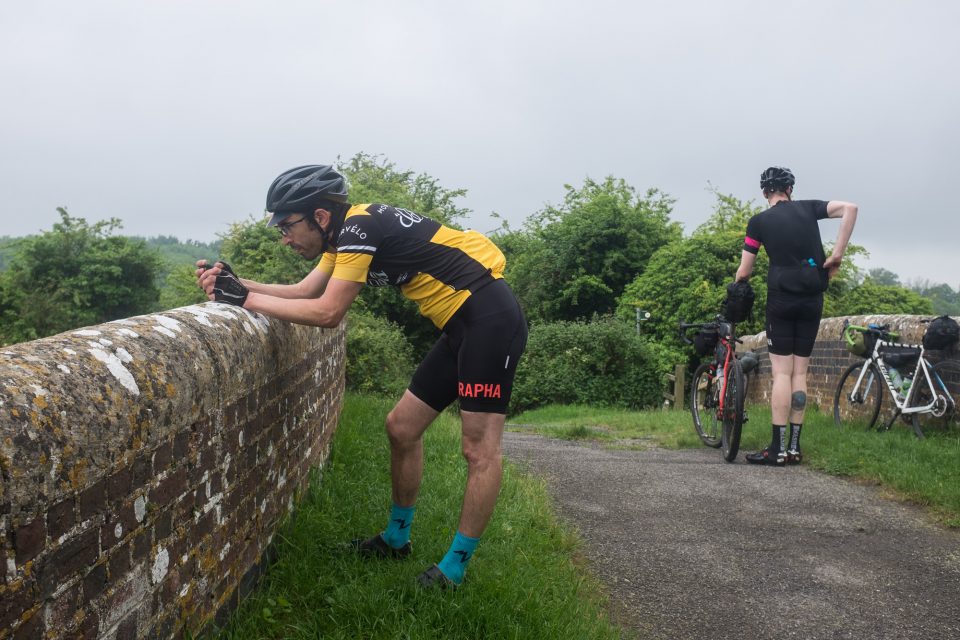 The surface got better as we got towards Bath and the speed picked up. One of the aims was to ride through the Two Tunnels again as Robin, Vic and Adam had not been through them yet. The first was was really cold with the second one being a warmer temperature. We went straight to Colonna and Smalls for more coffee and cake before heading back out towards the Mendips.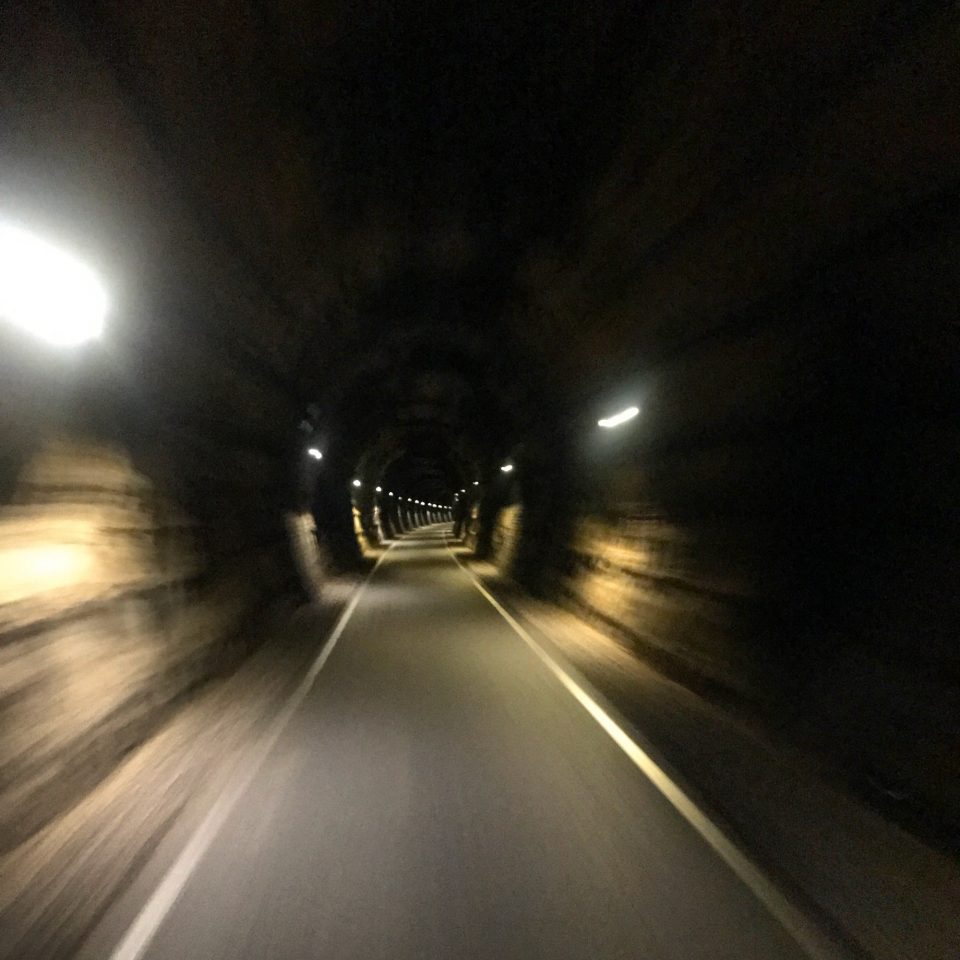 The idea was to do a loop around Cheddar and then back in towards Weston Super Mare where we would visit my Grandma and Adam would go to his parents place. We'd kind of planed in being in Bath around 10am but it was now 2.30 and we still wanted to do a bit of a loop before going to Weston. We ended up improvising a route to Cheddar Gorge and then picking our way over towards Locking and Grandma's house. We continued on the Sutrans route out of Bath and ended up on some lovely country lanes with very little traffic. Vic wanted to do a more gentle route so went off via the Sustrans route via Bristol.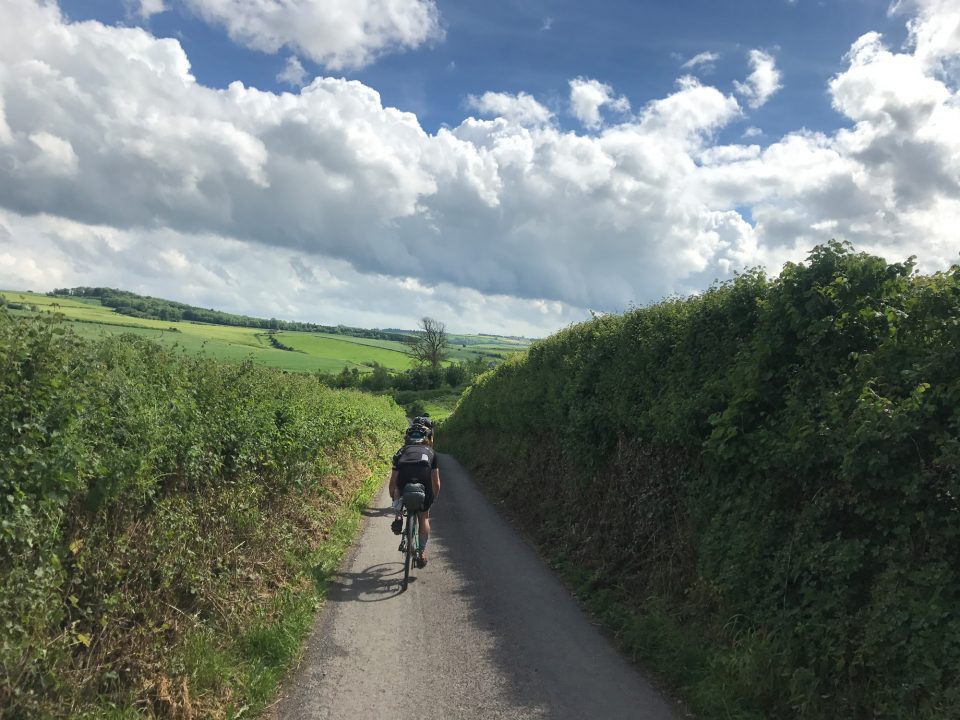 After a few stops and checking of our route we ended up along a beautiful road towards Priddy. Even with all the kit on we were ticking along at a fair old rate. A slight tailwind helped but felt so great to be moving at pace after the slow start to the day. Those fully loaded bikes really go when you get them up to speed. Having the kit all tied down well also means you don't actually notice it too much when it comes to getting a move on. We then swung a left around a stunning outcrop of rocks and then up a picturesque climb towards the gorge. We'd decided to descend it rather than ascend due to having all the kit on our bikes and not having much time. It felt like the right choice as we emerged from the wooded section into the gorge. It was incredible to weave our way down it although there was a fair bit of gravel on the roads and a few cars stopped me going as fast as we would have liked towards the bottom.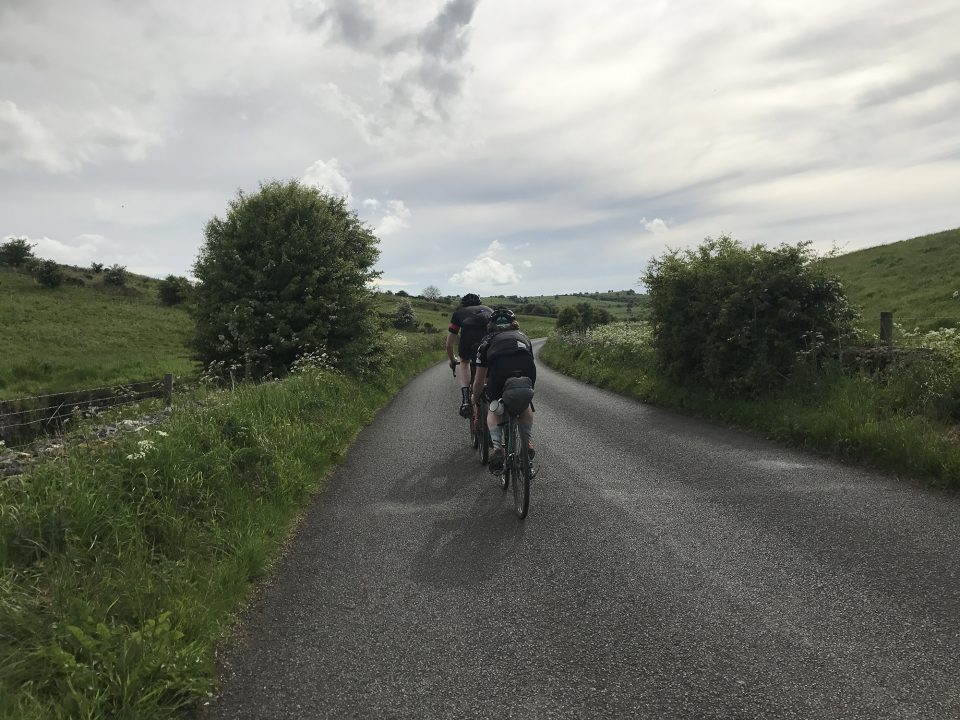 Of course we stopped for an ice-cream and some more water and had a few moments before tracking our way over towards Locking via Axbridge which again is really beautiful. The last section was a rocky and muddy byway which was great fun. After that it was up the short steep hill from Hutton and then to see Grandma.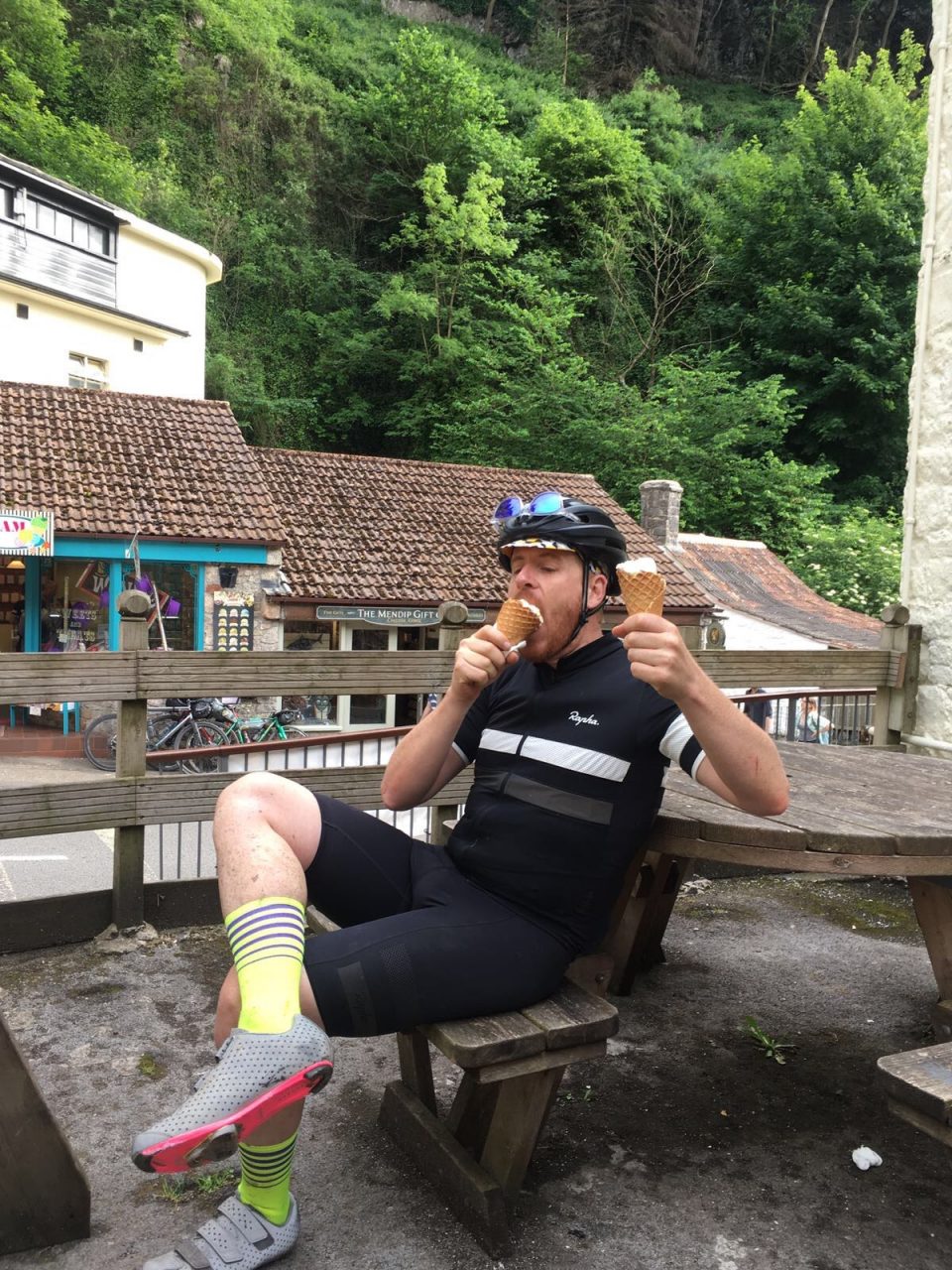 Adam had to dash so it was me, tall Andy Matthews and Robin for some tea, sandwiches and cake in Grandma's garden. She was thrilled to have people to talk to and as on fine form with her stories. Apparently tall Andy's beard was better than mine and that Robin looked very smart in his all black Rapha outfit. My colourful hat wasn't as good as Andy's black on. And so on!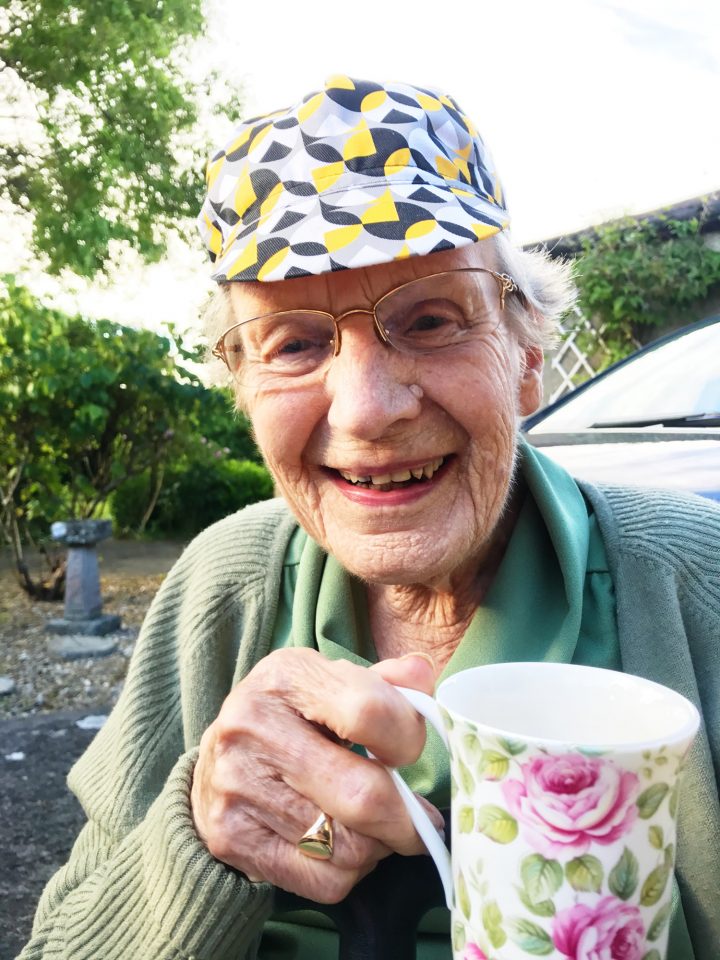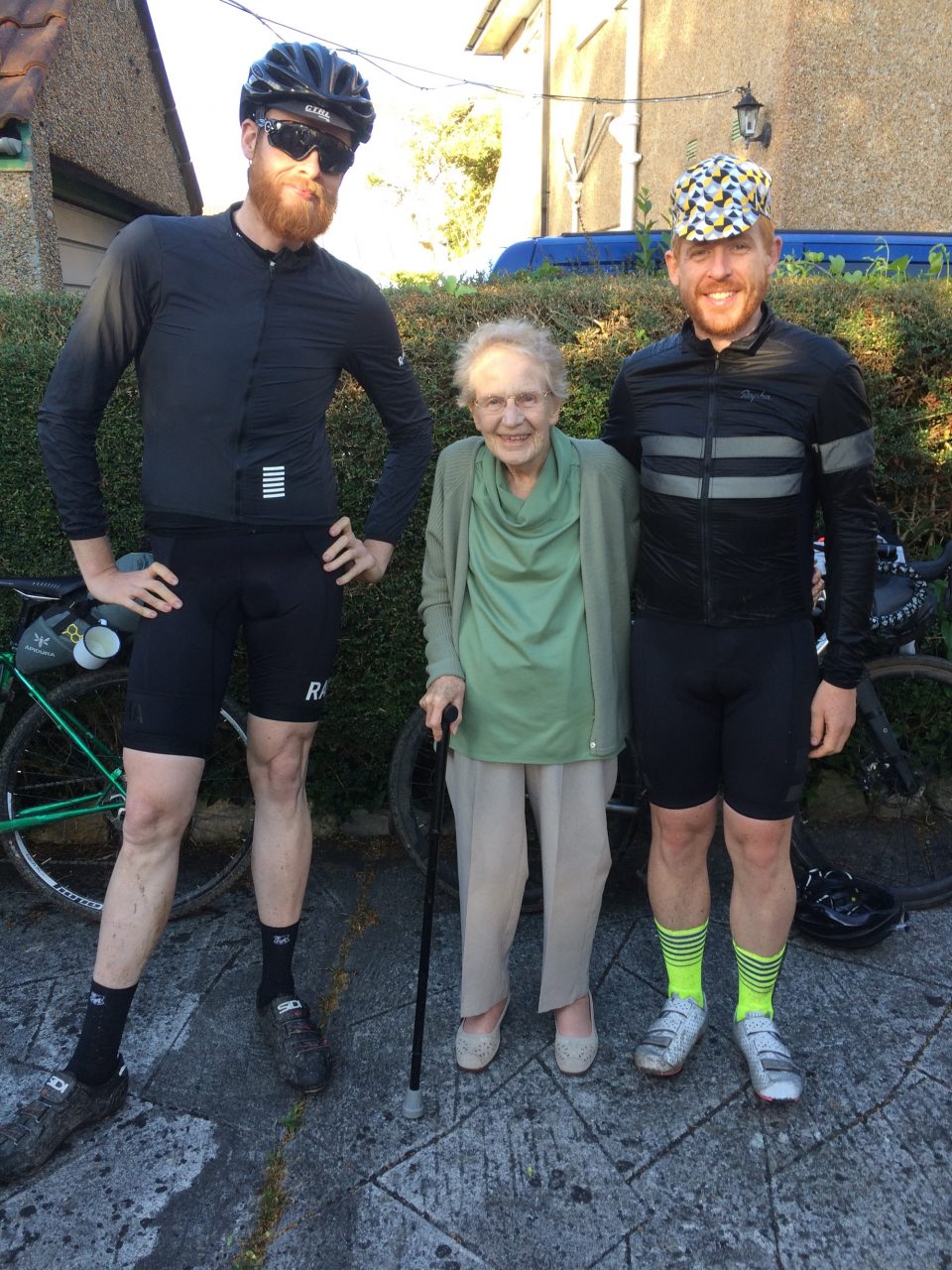 After that Andy and Robin headed out towards Blagdon for a pub dinner and to find another spot to camp out. I got a lift back to Bath with Mum and just about managed to get a spot on the train back to London although £45 lighter for the pleasure. A beer and a kitkat from the buffet and I was as happy as larry. Sadly I caught a whiff of myself occasionally. The only thing that spoiled the adventure was the cycle back through London home with the a series of road closures and coach trying to use the cycle lane at Vauxhall.
Hoping to do some more of this but perhaps more local to avoid the ridiculous train fares.