Up the Grand Union (and back) on a Brompton
Sunday has now become my regular riding day and I've been trying to get out and mix up the riding a bit. Instead of jumping in the van to the Surrey Hills I've been doing road riding, exploring different parts of the river and various other rides to have a little more variety. Seeing other people post their rides to Strava has also encouraged me to consider different routes or places to ride without having to drive.
One of the people I follow, Thomas Corrie, recently did a really nice route from Paddington Basin in London heading west up the Grand Union Canal and then got the train back with his Brompton. As usual he took some great pictures on Instagram which further inspired me to go and have a go at it.
Also on Strava is a monthly challenge with aims to get you to go and have a "130k cycling adventure". I've joined it a few times but not got close to doing that sort of distance, the most being about 85k round Kent with Magnus. So rather than go and do a longer road ride, which I knew I could probably do, I thought I'd try and do my first one on the Brompton, to kind of have fun with Strava rather than just doing the obvious. Fucking with it a bit if you will.
The aim was to get up at 7am to get a good start to get back at a reasonable time. I got out at 8.30 which wasn't too bad. I made my way put to Kings Cross via coffee in Covent Garden. It was a lovely day already and I could feel the sun baking down on me. Sun cream liberally applied I joined the canal by the Central Saint Martins building where people had already assembled to get good sun bathing spots on the terraced area adjacent to the canal.
At first the going was good, nice concrete and slabs with a few gates to avoid. Then along past Camden Market and past that to Little Venice. The usual Camden characters were out drinking and a few sleeping next to the Canal from last nights excess. The trail opened up a bit more once I got past Paddington and was fairly easy going. There were plenty of people up drinking from cans and smoking dope, none of whom seemed to really register my presence. After the posh and well do do areas around Hyde Park and Paddington the surroundings quickly changed to a more rugged industrial landscape. There were plenty of derelict buildings, scrap yards and just open land of no real value it seemed. It felt like a strange hinterland. I kept on and heard the faint sound of a sound system ahead. Soon enough I was cycling past a rave going on in the field to the left of me. A number of casualties were strewn over the sides of the towpath with that familiar smell of dope in the air again.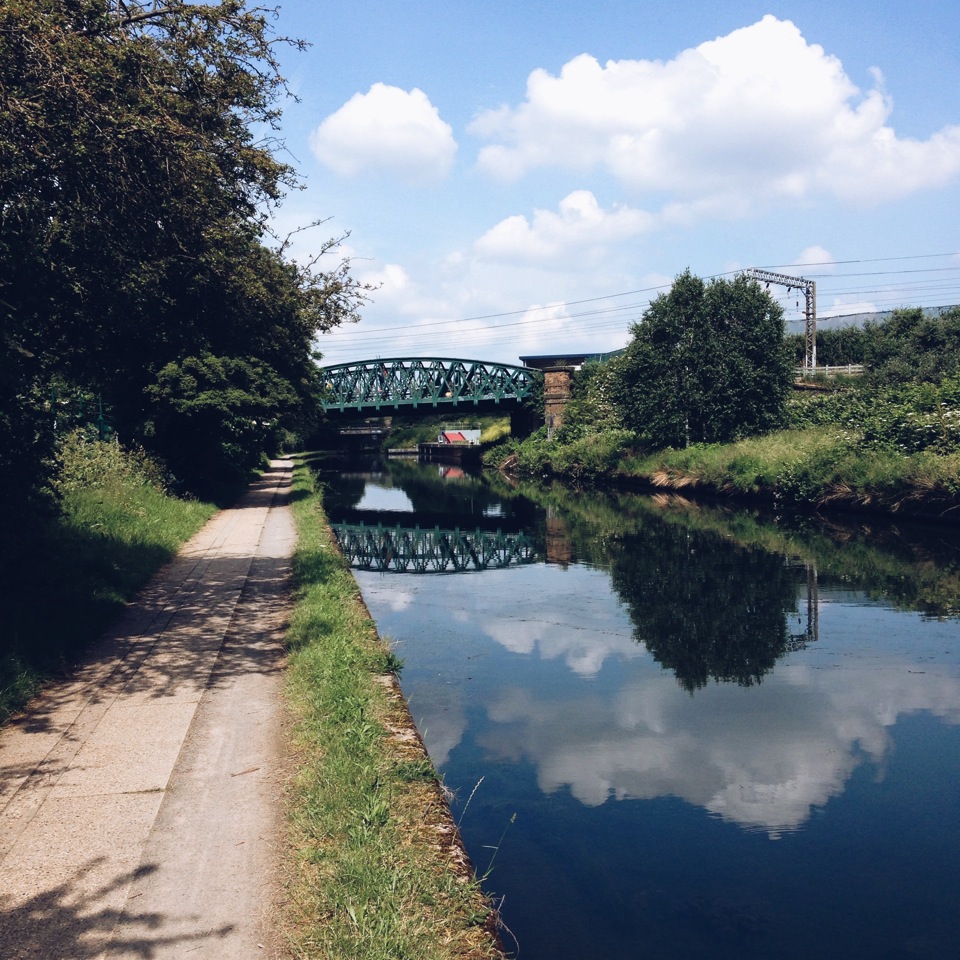 I passed many dog walkers as I kept on. I'd already got bored of dinging my bell and saying thank you all the time – saying thank you was important though so stuck with it. Each bump also dinged the bell more which drove me mad. I spent ages holding on to it to stop that constant ding ding. At this point I also realised that I hadn't actually planned any of this. All I was doing was just following the canal and seeing where it which felt amazing. No maps, no GPS, no turn by turn, no following someone else who knew the route – just pedal. Every now and then I did check my phone to see where the hell I was but it didn't really matter. And most of the place names didn't mean much to me anyway. I also kept checking the Garmin to see how I was getting on distance wise. Was 130k even achievable? It was at this point the smoother nature of the towpath finished and was abruptly replaced with a deep muddy section which meant using more mountain biking type skills rather than road riding. At this point I did wonder that if it was all going to be like this then I probably wouldn't be covering much ground and it simply wouldn't happen. This part of the canal felt particularly isolated and unloved. Soon enough it cleared up and a firmer gravel path appeared and I was on to the main section if the Grand Union. I had been riding on the Paddington Branch according to the sign and went right onto the main stretch north.
The industrial scenery continued with the occasional bridge flying over. I stopped at a few to grab some pictures as the light cascading through the joints was too good to miss. I spent a few moments just admiring the cloudy murky green water and the layering of the light through it.
Further up the path I found myself wandering how long my water supply would hold out for and decided to nip off the trail and find food and water. I fortunately found a supermarket but realised I hadn't brought the key for my d-lock. Pretty annoying having carried it in my bag all the way but never mind. Bike folded and added into the shopping trolley I got my supplies. Two bottles of water, two Lucozade, one Fanta and a few bits of cake to supplement the gels I had brought. I started back on the trail but noticed some play in the pedals. After checking the cranks/ bottom bracket and the pedals for play I found the rear end of the Brompton had worked loose. The only way of doing it up was to have the chainring off. Fortunately I had a second hex key with me. I guess I would have had to borrow one from a passer by otherwise but I got it sorted and headed off, loaded up with supplies.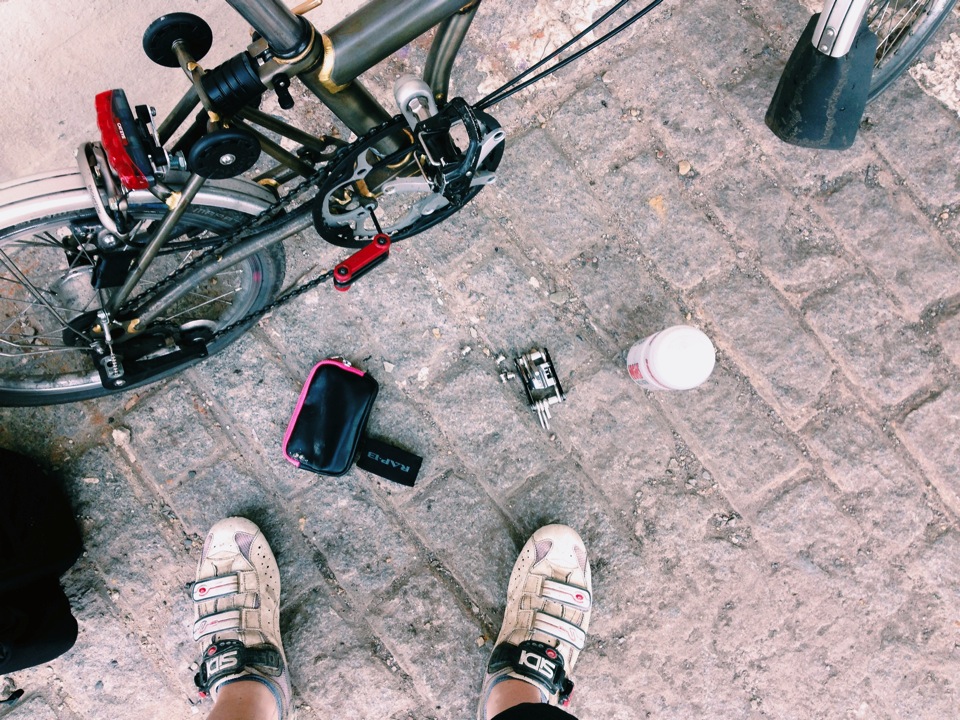 There wasn't anything two eventful after this apart from more people smoking dope, reading books and doing up their canal boats. There were lots of sleepy dogs and a few cats on the boats all just relaxing. It seemed like a lovely lifestyle and made up of all kinds of people from students, hippies, seemingly young professionals to the retired folks enjoying their days. A few made me smile, the guy skinning up whilst Dire Straits blared out from inside at the start of a long guitar solo. Another guy in just his shorts and a hat came past with Pink Floyd on who seemed to be having a great time.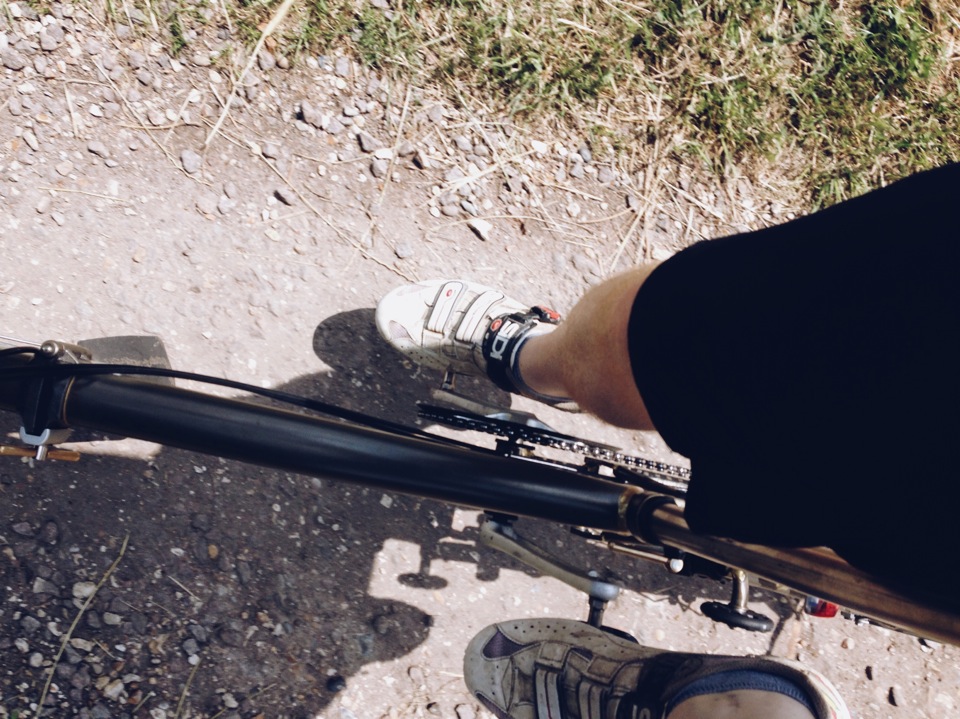 I kept on going and checked the Garmin for how long I'd done. Getting past 50k seemed virtually impossible for a while. But then I hit 65, stopped did a few more just to be sure and then turned around and headed back. On the way there I'd been slightly anxious about not really knowing where I was going and if I would make it back. I also had this fear of falling, or being pushed, in the canal. I think I was more worried about my phone and Garmin than drowning but still it was something I was wary of. I was worried about losing concentration and just tumbling in off a rut or something. Maybe that's part of riding on your own, a slight unease or anxiety. On the way back this passed and I had a feeling I could actually do this. The kilometres seemed to fly by as it was all familiar territory and I knew what was coming as well as feeling like I had the energy to do it.
In both directions there was so much in the way of nature to enjoy. Lots of swans, ducks, moorhens and their young floating about. The moorhens were by far my favourite. Plenty of blue tits in the hedgerows too and I also had the pleasure of seeing a Heron on the other side of the bank.
I passed the rave again on the way back. Fewer people were raving but more casualties at the side of the canal and a few completely asleep in the foetal position clutching their phones. By the time I'd crossed over the north circular I was starting to feel it a little. I'd just passed the 100k mark and was mentally trying to work out if I would need to do a lap of the park on the way home. There's sometimes a difference between what the Garmin says and actually what the route is on the map and I added a few more km to make sure. My biggest fear at this point was uploading it to Strava and it coming up and 129.8km missing my target by 200m. It would still have been a big ride but I wouldn't have got that virtual round of applause I wanted on Strava. Emma likes to ask me "how many stupid little cups" I got today.
By this point my feet had blisters from my shoes rubbing and my hands were really sore. The Brooks leather grips look amazing and are great for short journeys round town but just don't have any support for longer rides.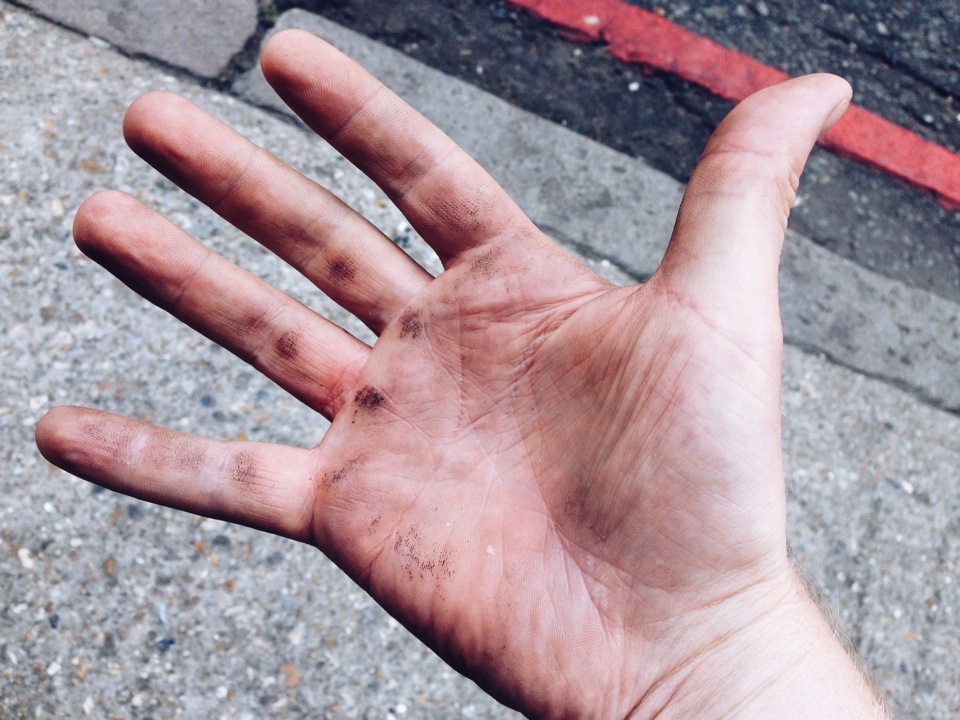 I headed in towards Camden and came off the canal by little Venice and did a tiny bit around Regents Park to get to Parkway where I grabbed another espresso to get me home. I then gently found my way back south to Camberwell via a slightly longer route. All I could think of was a pint of cold beer by now and cycled straight to the pub in Camberwell with the Garmin reading 130.2k when I got there. That pint of Brooklyn was like heaven. I added a few more km cycling up the hill home and fortunately it clocked in at exactly the same on Strava winning me my stupid little cup! A shower and more water was needed before returning to the pub with Emma. My eyelids felt like they were forcing themselves closed most of the evening and I slept so well that night!
For once it felt like the Sunday ride was a real achievement rather than just getting out of the house for a few hours. I had totalled six and a half hours of saddle time, not including breaks. Now, next Sunday…