Lightroom for iPad
Now I'm not sure if this has ever been on my wish list as a feature but it's pretty good to see Adobe come out with an iOS version that syncs with Lightroom. It's not a self contained version but a companion app to the full Lightroom which you need to have on your PC/Mac. You also need to be running version 5.4 and have a Creative Cloud account which I'm a massive fan of. At £8.50 a month for Lightroom, Photoshop and Bridge I'm happy to pay for legal software.
Anyway to use it you download your shots to your host machine. Create a collection and right click and choose sync with Lightroom mobile.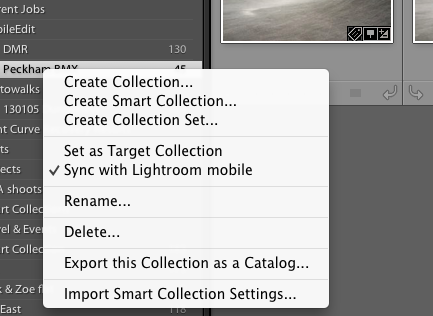 Then pop over to your iPad and see the photos appear in the app. They're not the actual photos but enough data to render a decent sized preview and some metadata which gets synced back to your host machine. You have the usual grid of images which is fairly familiar to work with.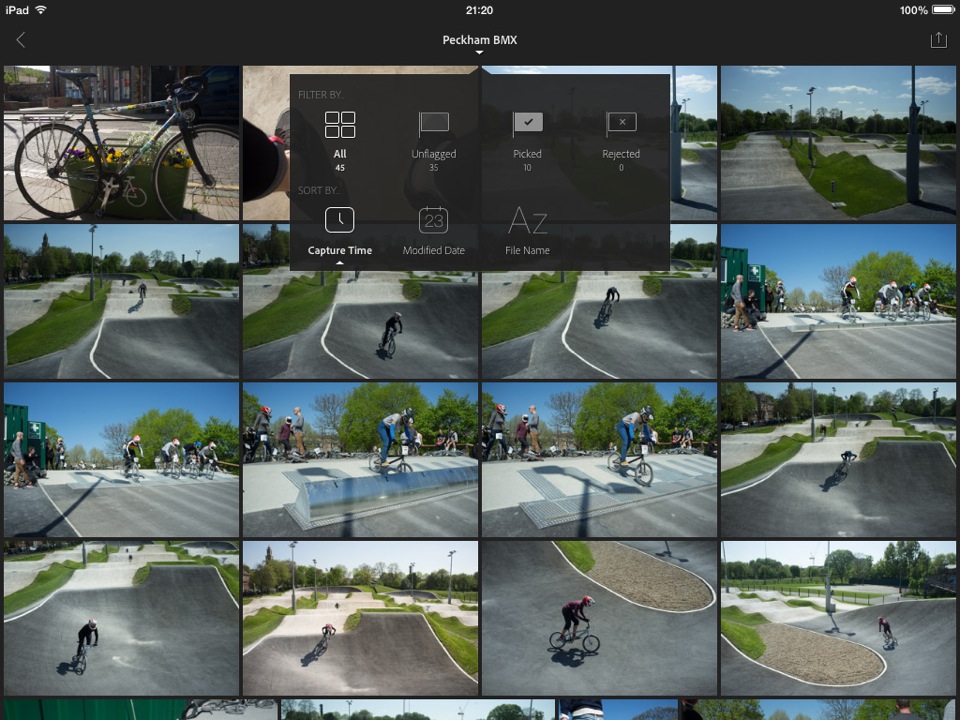 Tapping on an image takes you to a larger view where you can flick up to pick and down to reject. This is the first part of my editing process so it's nice to be able to do this bit from the sofa before heading back to the machine to do more in depth edits. Having done my picks you can then sort by this to then go in and do a bit more work.
Whilst you'd never really want to do colour accurate work on an iPad it's nice to be able to flick through and have a rough edit at exposure and white balance.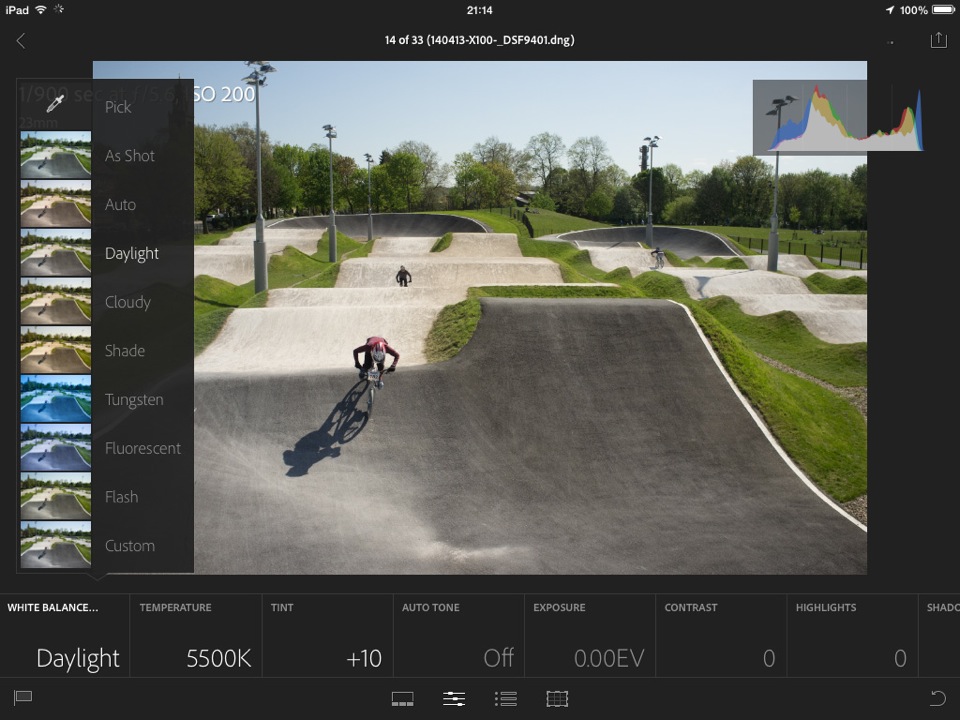 It's also possible to do crops, add clarity and contrast and most of the basic edits and the overlaid histogram helps. The interface for the white balance presets is pretty intuitive and the previews are nice for those who are less familiar with white balance adjustment. There are also presets but these are the stock ones not any you've built yourself. I'm sure these will come soon though.
My iPad mini wasn't entirely up to rendering my X100 files, or previews of, overly quickly but I guess this is aimed at a new iPad air which has far better graphics. Still it's nothing that would stop me working, just at a slightly more leisurely pace perhaps.
When I got back to the Mac my work had all synced and I went in and did a little more and fine tuned a few. 80& of what I had done was good though. I did some brush work on a few to bring out some detail which clearly couldn't be done on the iPad at this stage although the touch screen would make this very intuitive.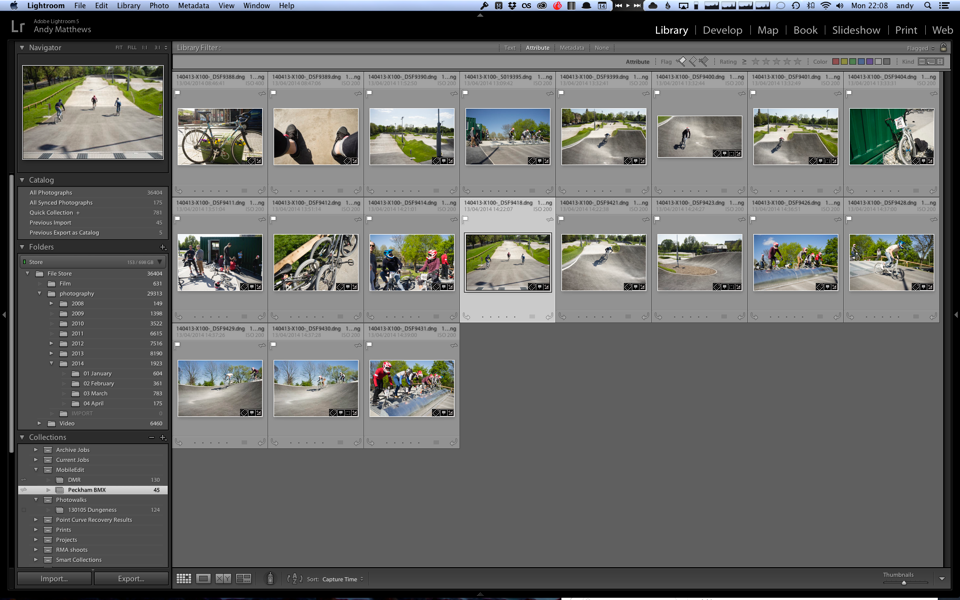 The last part of this process was to add my shots to the map which I sometimes do. I noticed that it was still syncing back to the cloud and after a while it crashed.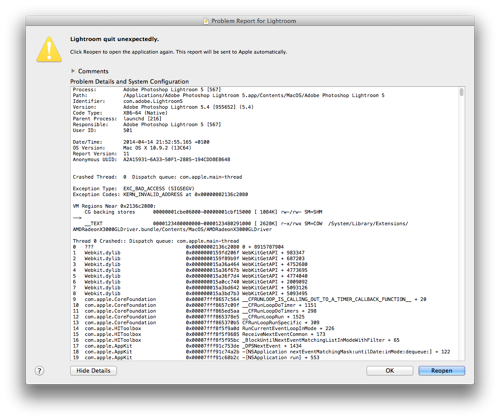 Unfortunately this meant killing the sync and starting again. My data had made it all one way though so I'm not too bothered about this.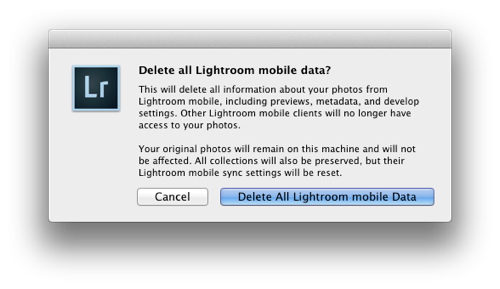 Obviously this has only just been released so I'm not going to be too critical but it's pretty promising stuff. I wish there was a way to edit my main Lightroom catalog with my laptop from the sofa without VNC or separate catalogues though. Great to see Adobe doing this kind of development and including it for Creative Cloud subscribers. Judging by the comments on the App Store others aren't as keen.