Stop it Tumblr you're needy & desperate
I used to love tumblr. It's been an incredible resource for amazing Architecture and I've loved creating the pastebook and keeping it up to date with lovely images. I also loved how easy it is to spin up a site.
Got an idea for a site? Got a funny parody that's of the moment? Sure, no problem, create a new site, pick a name and off you go. If it lasts, pick a domain, point it at it. Achieve world fame then profit?
But then it got bought by Yahoo. All the nerds and hipsters were worried. But then Marissa Mayer was there so it would be ok. Generally day to day it has. The app has continued to evolve, the web interface continues to get nice tweaks and things seem to be ticking along nicely. But then some fucking arsehole decided that they would start sending emails to their users twice a day. To all those loyal users who check the app in the morning, lunch and evening. The same arsehole or collection of arseholes (collective noun?) decided to give those emails some pretty crappy headings too.
Awesome stuff from the people you follow. Here's what happened this week on your dashboard!
PS. FUCK OFF!
PPS. I KNOW I FUCKING LOOKED AT IT THREE TIMES A DAY.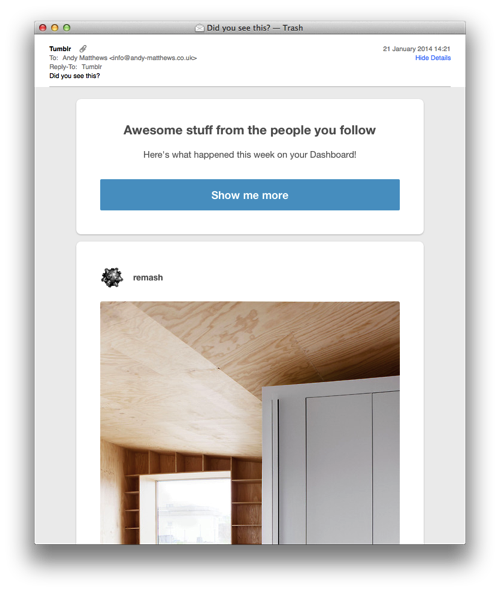 On your marks, get set, scroll!!! tumblr. Explore what's trending on Tumblr.
PS. YOU STUPID IDIOTS, I DONT FUCKING CARE.
PPS. YOU USED A LOWER CASE T FOR TUMBLR THEN A CAPS T FOR TUMBLR IN THE SAME BLOCK OF TEXT YOU DICK WADS.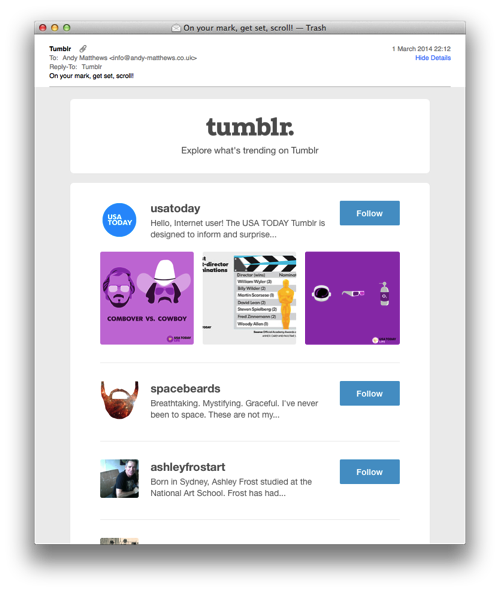 Your dashboard is literally on fire!
OH GO AWAY.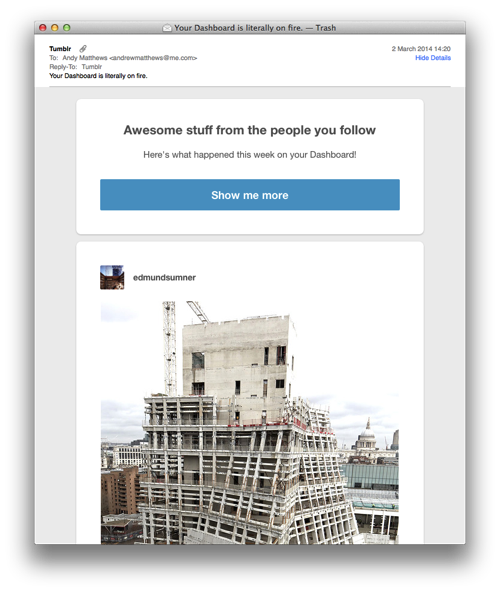 This is the kind of thing you expect of Google Plus not Tumblr. What's maddening about this is that they must have the ability to see who is engaging and who isn't. I am was engaging and yet they still send me these stupid fucking emails begging me to be on their site more. Stop it. Each time I get one of these emails I flick to the left, delete and think less and less of Tumblr. I want to spend less of my time on their site, invest less of my time there and so on. Why pester the people you already have on board? Please T(t)umblr grow up and stop being so needy.