It's not easy being an uptight tosser perfectionist that's obsessed with perfection, especially when you bought a second hand van for mountain biking that used to be used by an electrician. If you look carefully in the light you can still read the sign writing on the side, hopefully I'll get this polished out soon though.
Most people would just accept that it'll rattle and be a bit noisy unlike a decent car. A few people said to me It's a van, just accept it. However I've been on a quest since owning it to remove all those annoying little noises. I cleared out all the old electrical bits and bobs I found and it generally went well for a while. I would carefully load it, isolating any potential rattles in the load, using packing to keep things separate etc. But there has always been those other rattles that just wouldn't go away.
It took me a while to trace one of the rattles. I worked out that some how the overhead element in the dash had something moving around. I finally took it apart. And what did I find? A bloody pencil. According to Gav this is a, and I quote, a commoners pencil. Presumably this is due to it not being a clutch type as an Architect or designer might use.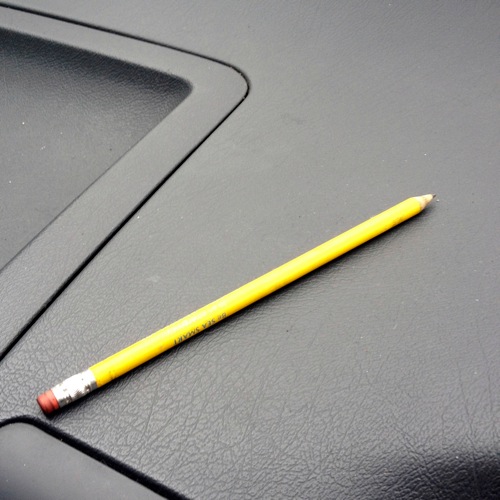 Great I thought. No more rattles, especially ones near my head in the front of the van. Happy and content that the van would remain silent we drove to Cambridge for the Easter weekend.
But then I found I could hear another rattle, again from going round corners like something was rolling around in the back. I fixed everything down, checked and checked again but it was still doing it. So I had EVERYTHING out of the van. Hoovered, cleaned and wiped the whole interior down. And just as I was poking around I noticed a golf ball that had found it's way into one of the holes where you get to the rear lights.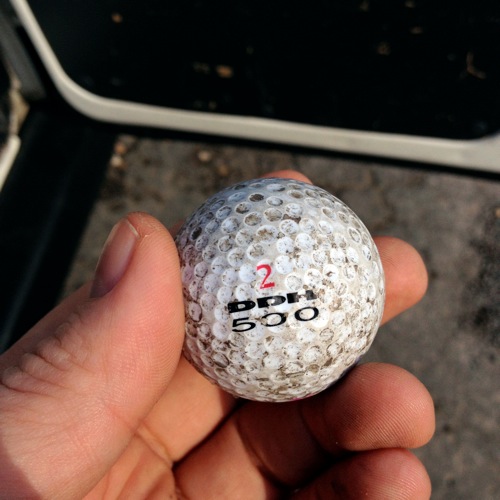 A bloody golf ball. That was the thing that had been driving me mad for months now. But at last I can drive happy that there are no rattles in the van. OCD complete for now.