For the love of cyclocross
I guess this isn't really about the bike as such but more about the ridiculous amount of fun I've been having on it and a new found respect for Cyclocross and riding silly bikes off road. It's a bit of a ramble but I've done lots of fun things on a CX bike and wanted record it in some way.
At the end of last year I got hold of a prototype Bowman Foots Cray frame and forks in bright orange. A trip to the parts bin, Wiggle for a few items, a borrowed chainset and a further borrowed set of wheels later I had a little CX ripper for playing about on. The intention was to race a season of cyclocross over the winter but this never really happened for a variety of reasons. I managed a long commute home on the towpath to test it out and loved it.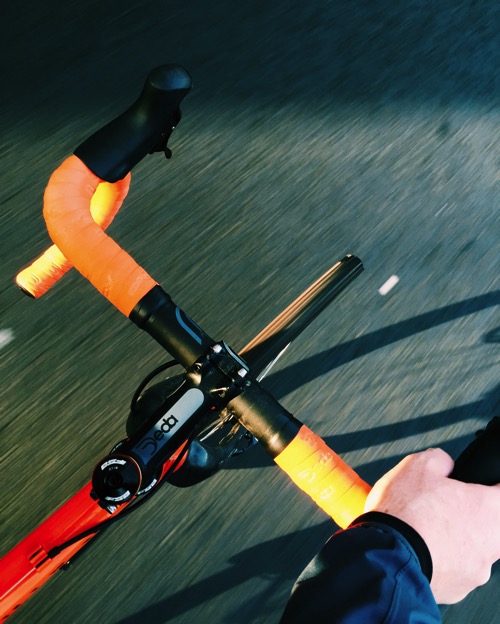 My first proper ride of the bike was around my favourite MTB loop round Surrey. It's not super technical, apart from a few lines here and there but by and large could probably even be done on a road bike, albeit quite slowly. I used to ride round here on a six inch travel monster with a backpack full of stuff and think it was amazing. Freeride really was a load of old cobblers. Bikes got super heavy and took a lot of the actual riding out of riding.
I convinced Steve and Aggie to join us and had a brilliant time riding unsuitable bikes on mountainbike trails.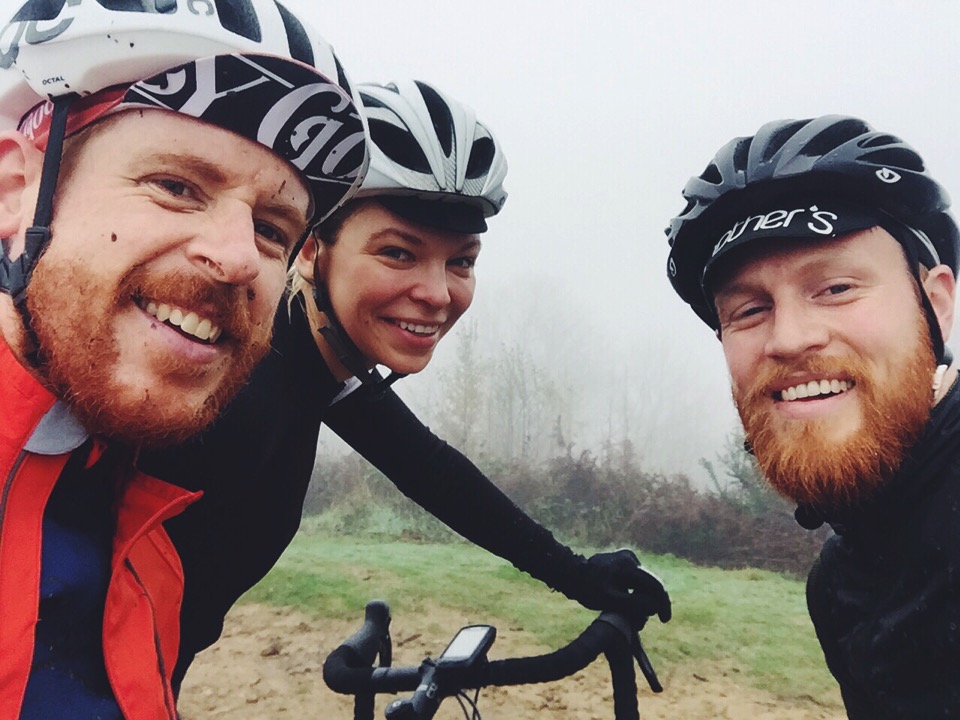 See the smiles? So much fun being had on a misty autumn day.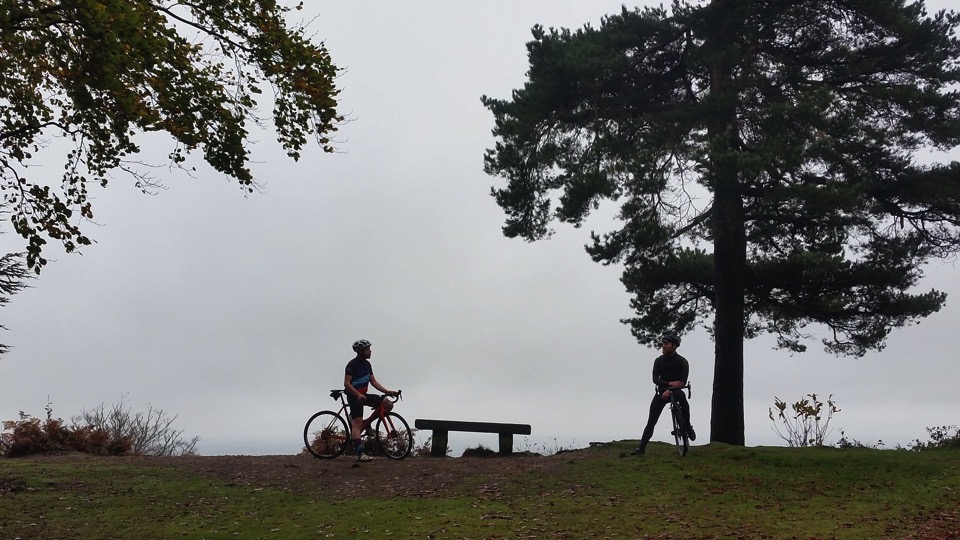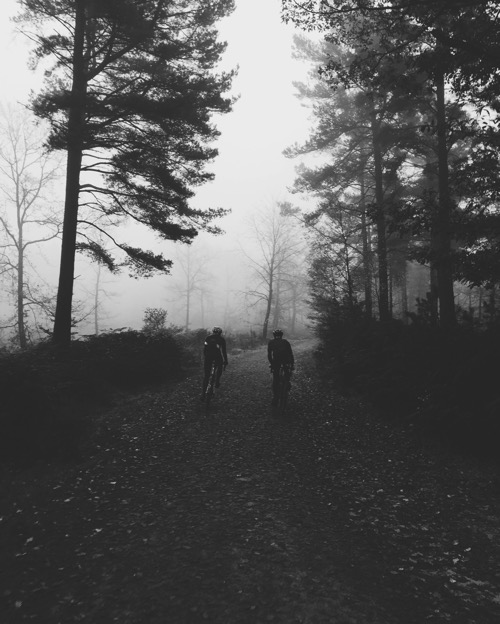 I came off in a thorn bush, we had loads of punctures between us but we all had an amazing time and managed a 45km off road loop. Sweat, mud, blood but no tears!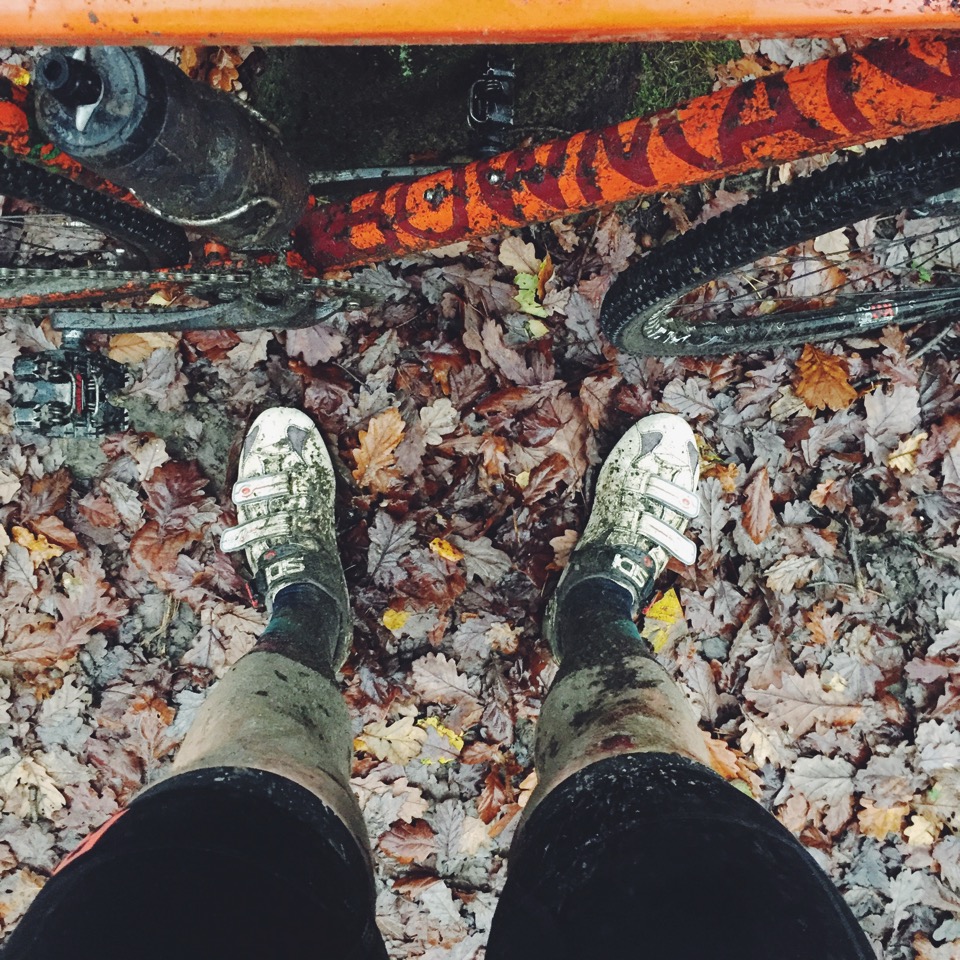 Bizarrely my first proper CX event was on a Boris Bike at Incredibly Cross. On the way back from Surrey we'd been discussing the US CX events and the inspiration for them. A bunch of friends, secret locations, beer hand ups, dressing up, inappropriate bikes… Basically a lot of fun larking around on bikes and no Cat 3 nonsense. The last two piqued my interest.
How about I do it as Boris on a Boris bike?
Steve (the organiser) seemed keen so the following week I got a charity shop blazer, shirt, tie etc, a wig and hired a Boris bike before heading out south to Mitcham to ride the course.
A slight pang of self consciousness arrived as I cycled into the park where 60 or so other riders were all in the usual CX get up, lycra, proper SPD shoes, nice bikes etc. Too late to back out now I guess.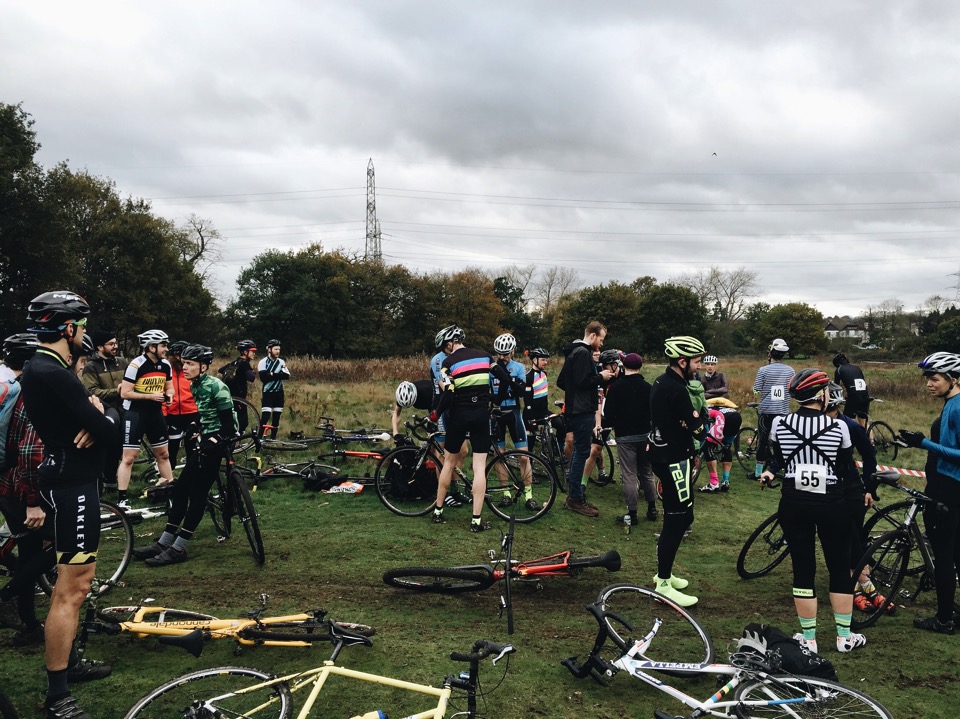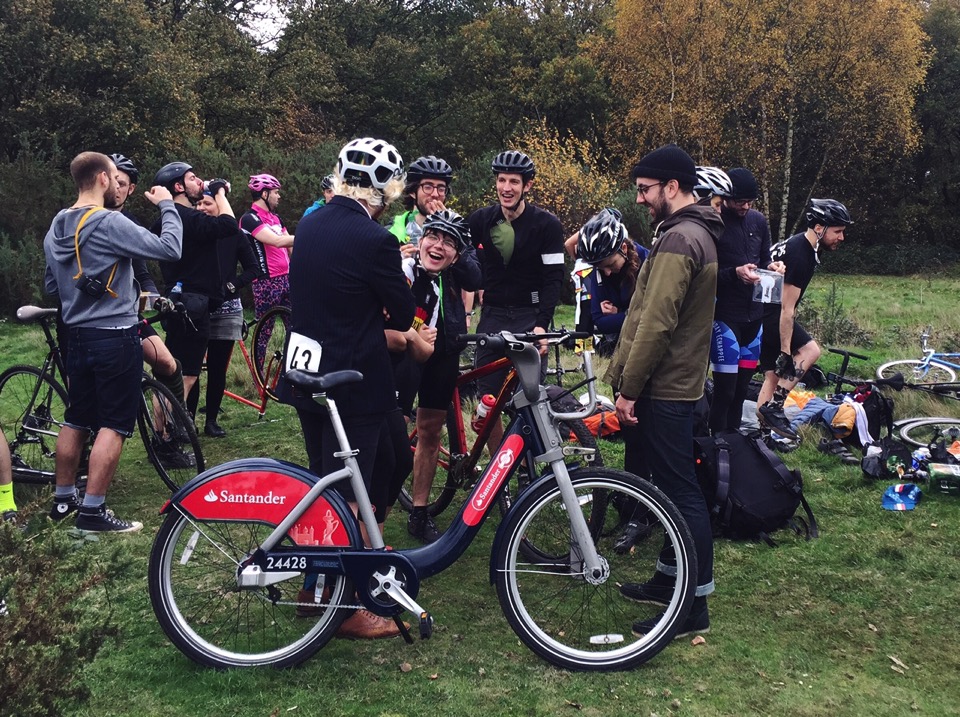 Lot's of giggles were had though with everyone being very funny and saying how nice it was to see the Mayor of London riding CX. I had a go riding the course. It went surprisingly well with the massive tyres although lifting it over a log and pushing it up a massive hill was less fun. It's heavy, real heavy at 23kg! The big tyres did help though.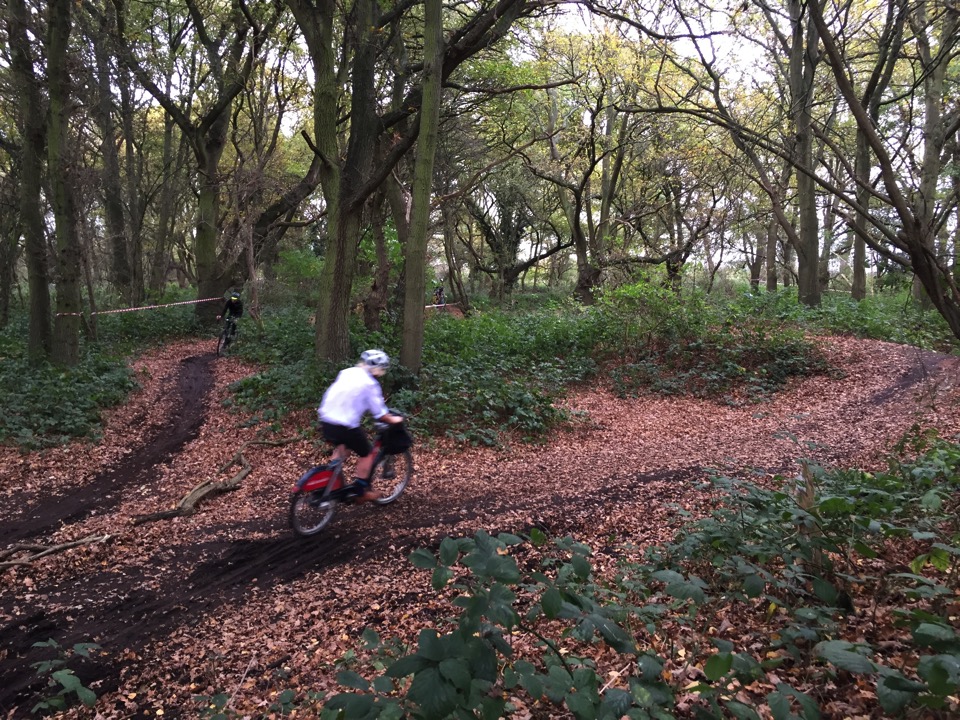 I did actually manage to race it though and did even manage to overtake a few people. After a few laps I was exhausted. Jacket off, beer hand up and a few more laps. Loved it when people shouted "on your left Boris" as they rode past. I was pleased to ride the up hill section with turn to the right. The people watching were great too with more shouts of encouragement.
The end couldn't come soon enough and I was so glad to finish. I won a prize for 'most inappropriate bike' with fellow BCC ride Ben winning 'best outfit' for his space suit and helmet!
Sam Melish was out with his nice medium format camera and got this portrait of me which is great.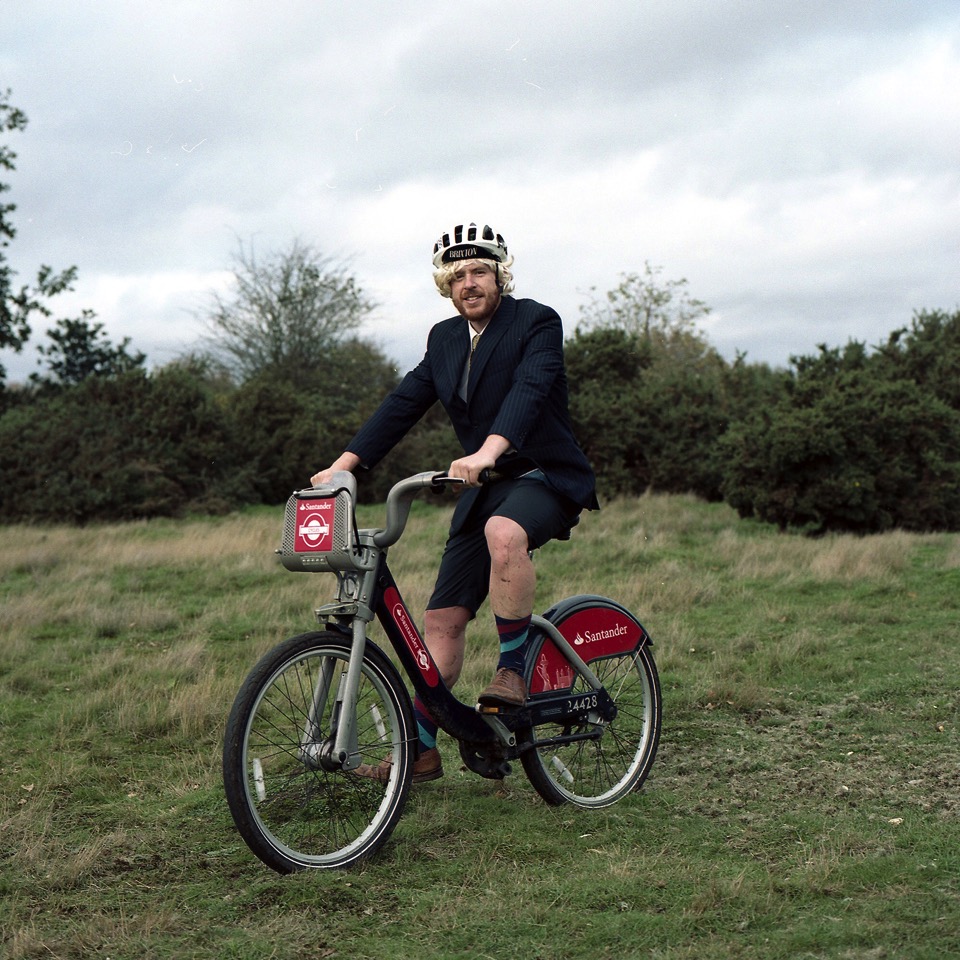 Boris bikes also are good for carrying packages, large and small as the next photo demonstrates. I couldn't get the elastic over Adeline securely in place and eventually she got tipped off.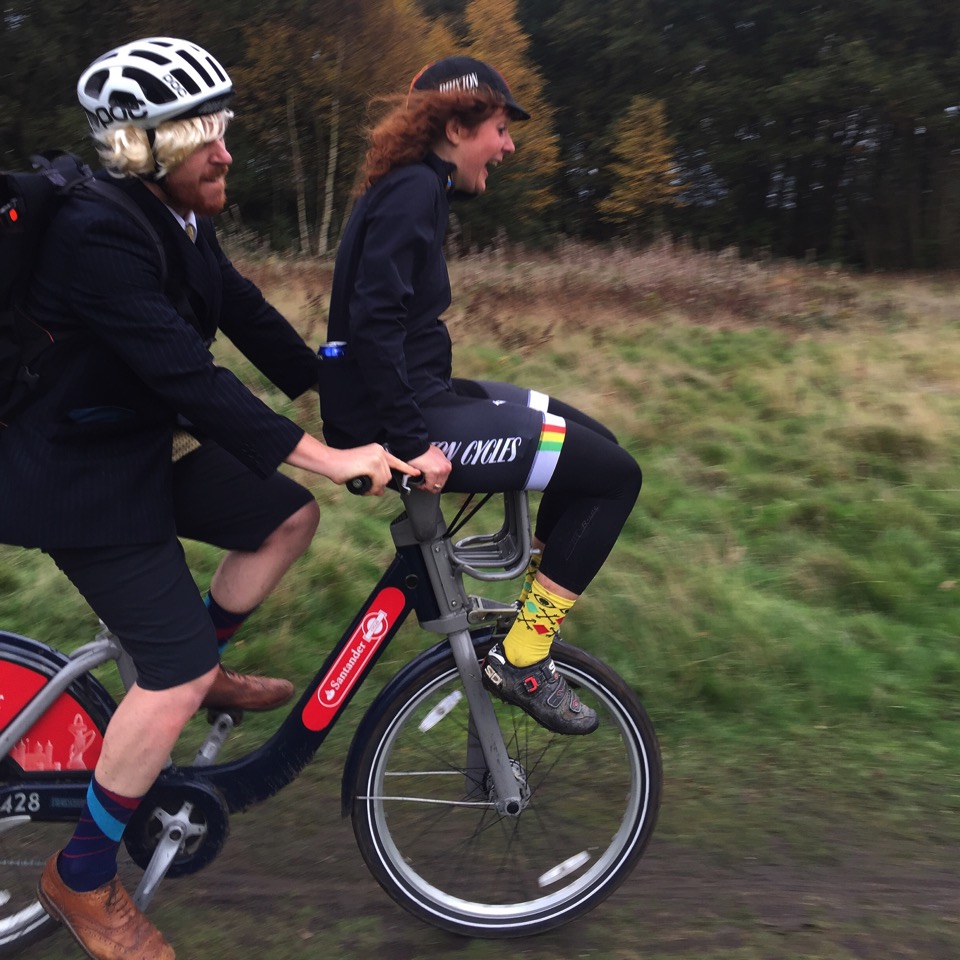 After this I did actually want to ride the CX bike again and took it out to Swinley Forest. As I was getting ready in the carpark another rider said to me…
Stick to the fire roads and blue trails and you'll be fine
I smiled and nodded. Not a chance. I wanted to go and have a blast round the trails. All the trails. Again there's nothing too crazy there and if it was I could just slow down. I did the blue then onto the red, down the tank traps, down the trails by the reservoir and loved it. Sure, my back hurt when I got back but it was great fun. It's also so much fun rocking up to the top of a trail with everyone tooled up with big bikes and goggles and then saying 'morning' to them before heading down the same trail. The ridiculousness of it all brings a smile to my face every time.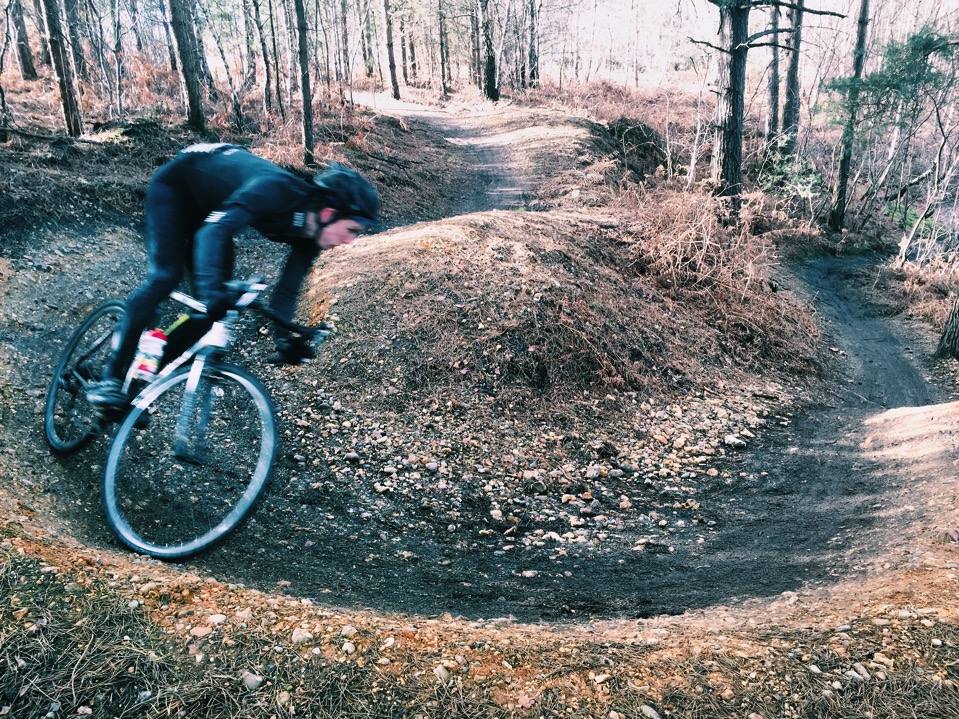 I've been back for another trip round Swinley recently and had a similar reaction although with one person telling us off for going too fast and wanting to go past him. Why go slow on amazing trails? Strangely I've ridden a lot of the trails faster on a cross bike than my usual MTB!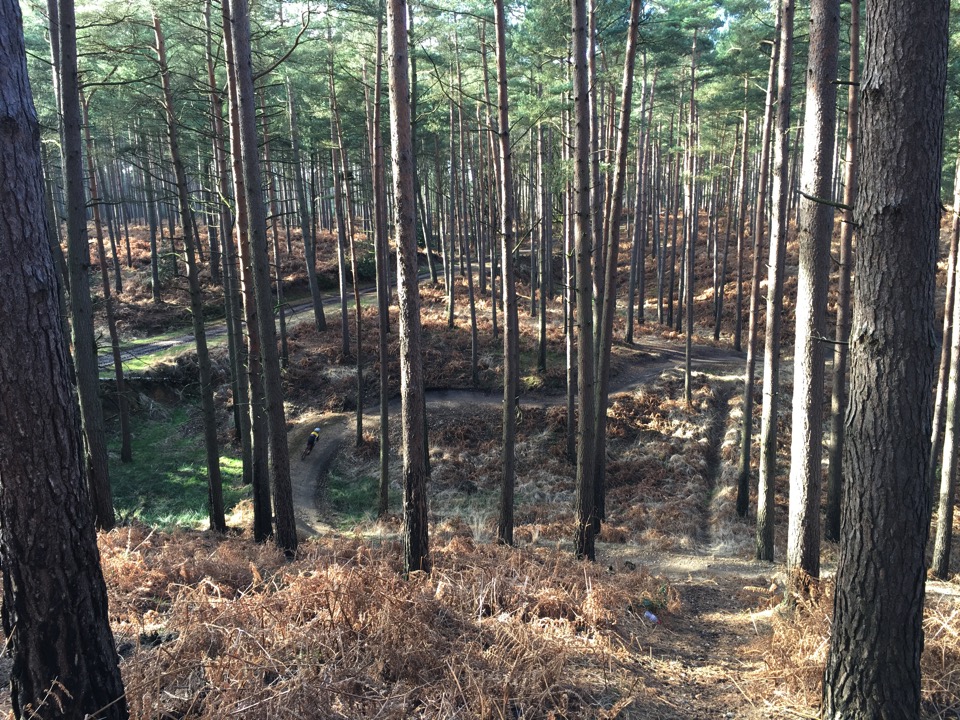 There was another Incredibly Cross event before Christmas which happened to be on the same day as my office Christmas party. Fortunately they were both in the same part of town and close to our flat. So I left the party, got home, changed and got the bike ready to head down to Christmas Cross. After the Boris ride I fancied riding a decent bike and just enjoying it. However my concession to dressing up was to cover the bike in a set of cheap LEDs from Amazon. Christmas bike!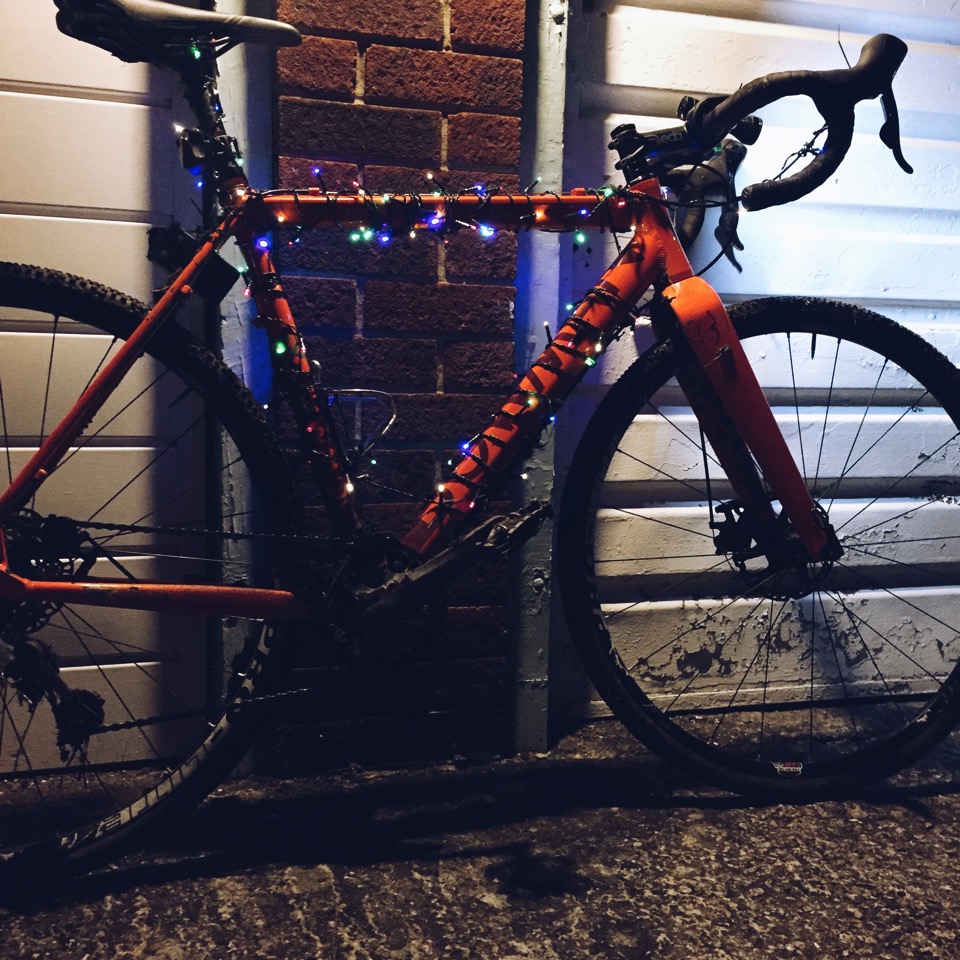 Having a large dinner and a lot of beer during the day wasn't the best plan for racing but I had a great time on the course. There was a tight bend where everyone had congregated which meant lots of shouting whilst trying not to stack it riding round a mucky corner. Fortunately Robin had a megaphone which meant he could shout even louder in your face each time. This is by far my favourite photo from the evening as taken by Roland Ellis.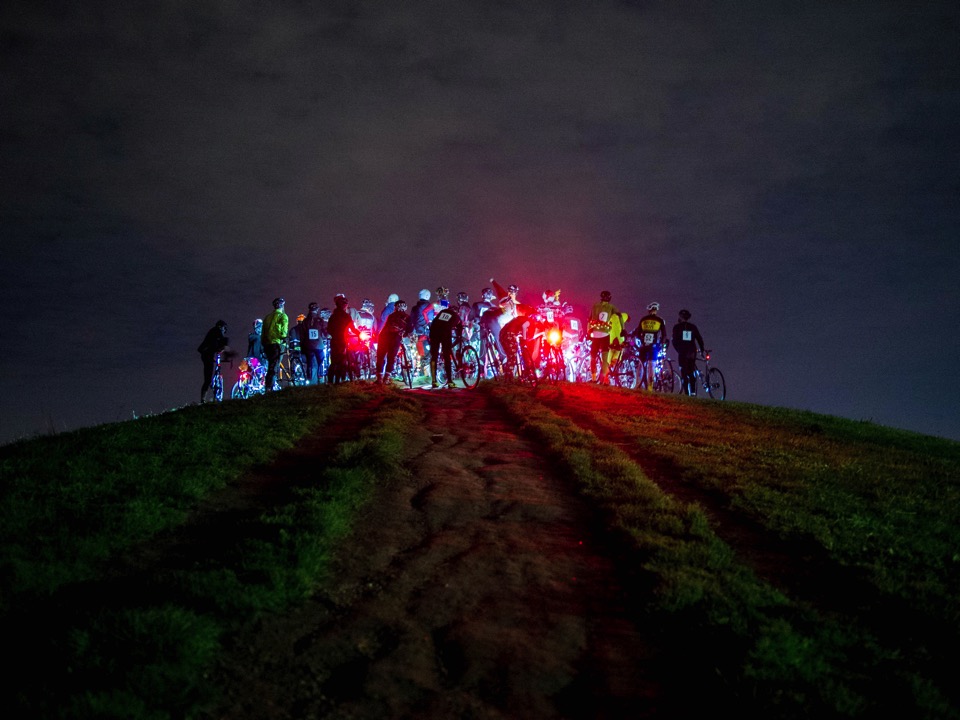 Others turned up with various fancy dress outfits including PK as a chicken and Bash with some badly placed antlers on his bars. I'm sure it seemed like a great idea at the time.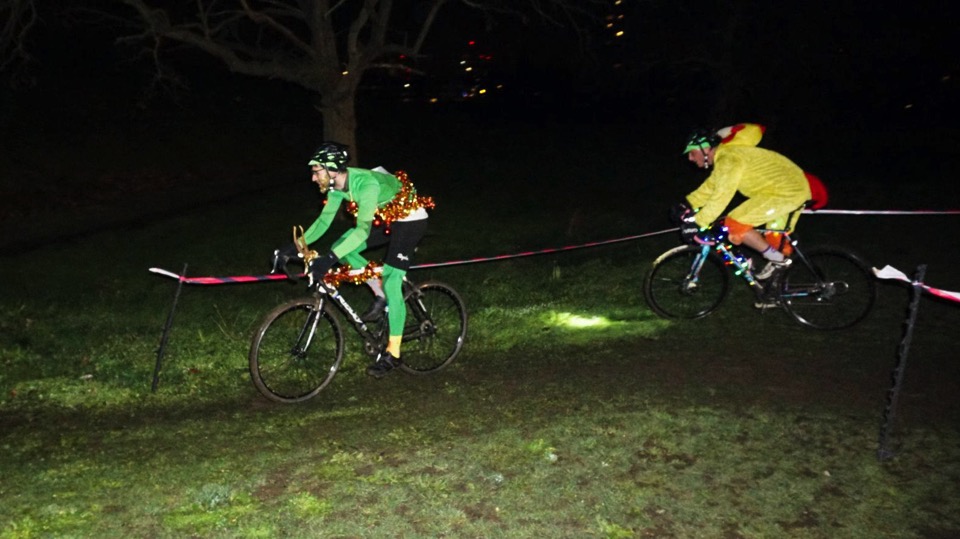 I finally entered what you might call a proper CX race. The New Years Day madison at Herne Hill. I tried to not drink too much the night before but Will and Marta had other ideas. Hangover in full swing I had a go at the course with Will as my partner. Muddy and sketchy but great fun. Pushing up big bob round the back and trying to do mounting and dismounts for the again was fun. More practice needed for sure!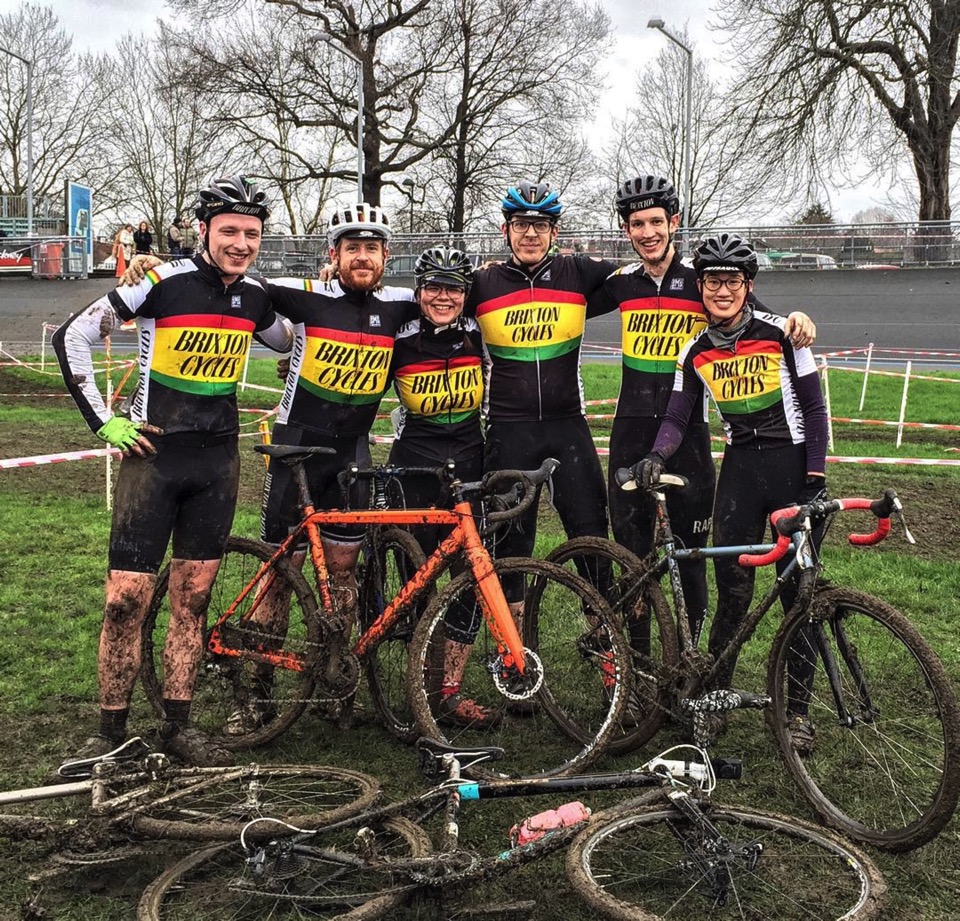 There was one more Incredibly Cross event to end the season which involved more mud. More heckling. A stupid little crash on the way there and most importantly smoke bombs in a field in North East London.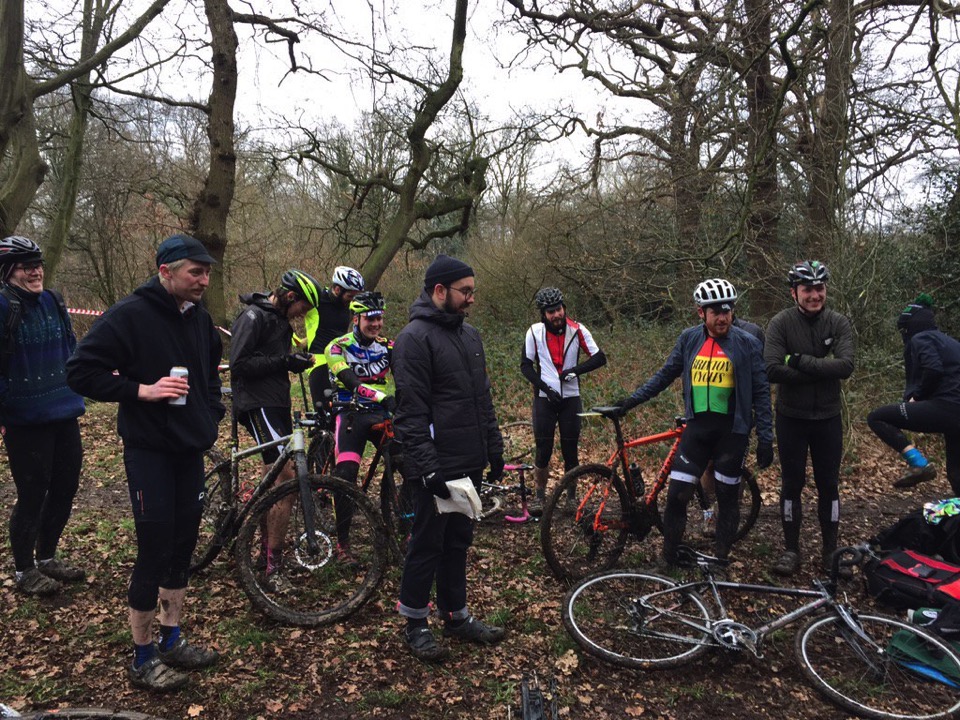 A smaller turn out but just as much fun!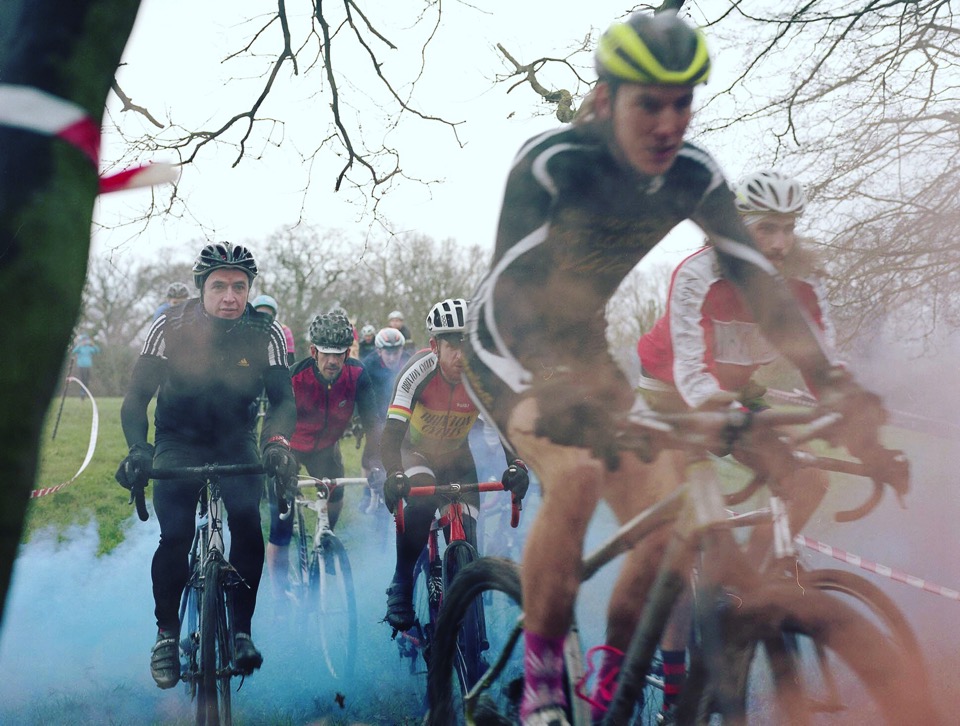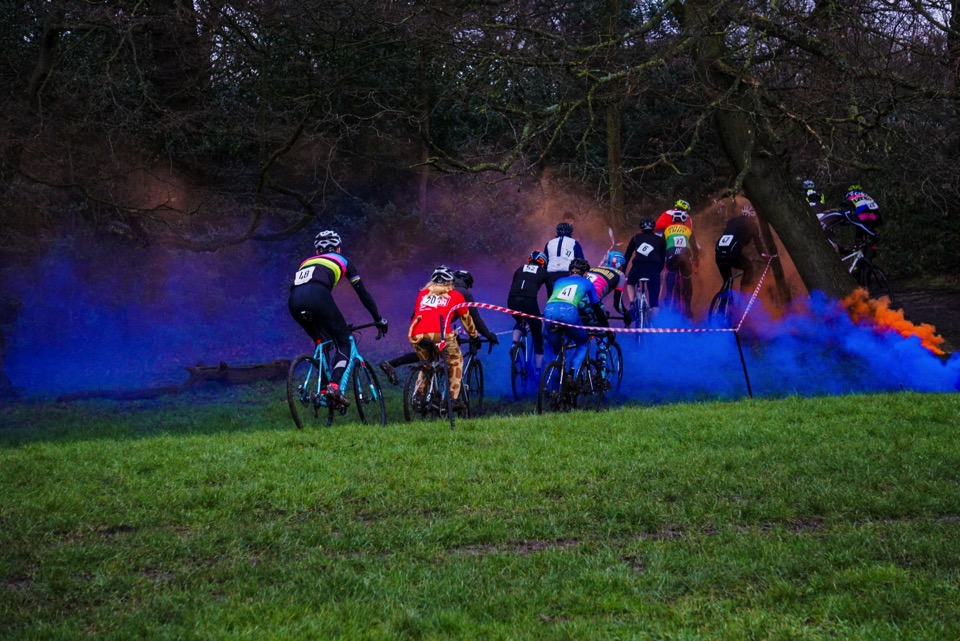 The next event was the White Hills Chalk Ultracross ride down near Brighton. It was meant to be 75km offroad round the wonderful hills of the South Downs National park.
This is a ride on Cyclocross bikes; a nod to The Three Peaks but with the attitude of Boulder Ultracross and, well, more English – there's extra kudos for turning up on a single speed. The ride ends in the pub – a place where all good rides should end
There's a post on the Morvélo blog which explains it in a bit more detail and has a good summary of the day. Mine is as follows though. The weather was pretty horrific. The ground was gloopy. The wind was windy. It was really quite cold. It was so windy that we all got blown off our bikes a few times. I've developed some riding skills over the years but until now not had to try leaning at 45 degrees into the wind just to stay upright.
Having said all that our cross bikes did take us to extremely beautiful spots which made the effort well worth it.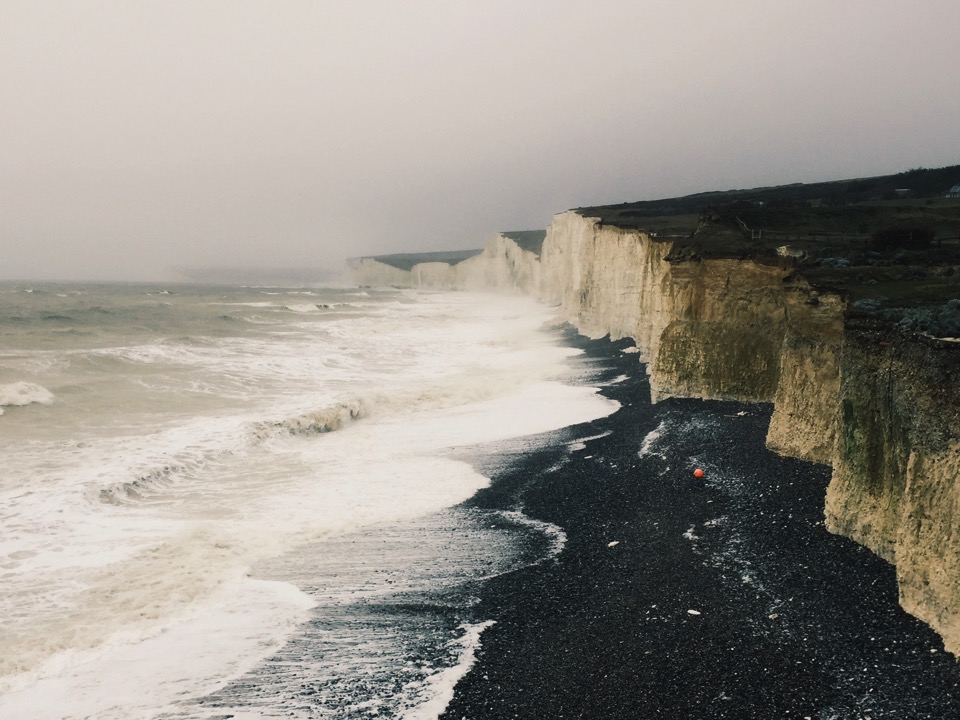 Fortunately others were also suffering and the ride was cut short with the last few hills skipped. After warming up in a friendly pub, eating all the chips with cheese we headed back to the end of the course and to the warmth of the van. One for a slightly nicer day perhaps.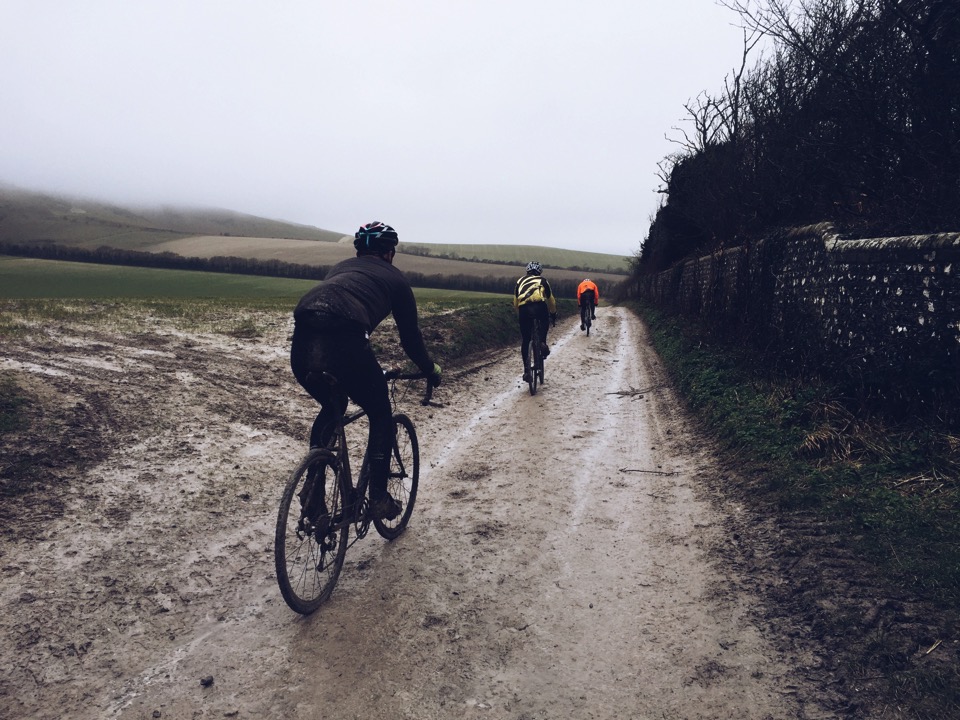 At some point over Christmas myself and few others from Brixton signed up for the Dirty Reiver event in Kielder Forest. A 200km off road event on cross bikes. It sounded like fun at the time but now it's only four weeks away and I'm thinking of all the fitness I might not have for this. I did a 200km audax last Sunday and really felt it the next day. That was on smooth roads for the most part.
So on Thursday night I headed to Richmond Park with Rob, Matt and Ed to do some 'gravel laps'. It seemed like a good idea. Ride the cross bike, get used to it a bit more, ride off road a bit, ride in the dark (as no doubt we'll end up in the dark on the Dirty Reiver). I expected it to be fairly boring and tame. But riding a cross bike offroad in the dark is great fun. The best part, it's accessible from work, is a better work out, is actually quite fun hooning it around at night on a loose surface and you can stop at the pub on the way home. More importantly it's not as mind numbingly boring as laps of Richmond Park on the road!
It does seem like CX bikes or the new gravel type bikes open up a whole world of possibilities for riding. I stopped using my MTB as it was such a ball ache getting anywhere to use it from London. But this allows you to ride there and mix up roads with off road as well as go a little faster.
Next up? Well there's this Dorset Gravel Dash I have my eye on, especially after reading this ride report from last year by Jo Burt.
This quote amused me…
Gravel Racing has become A Thing in the USA where they have vast amounts of endless horizons and vast miles of unmade road to reach them by, and they've invented Gravel Bikes to ride them on.

I say invented, I mean marketed a new bike for something you could have done on all sorts of bicycles that have existed for the last 100 years or so. Think of a cyclocross/29er mountain/touring frankenbike and you've pretty much got a Gravel Bike, just add carbon and an arty Vimeo. It's most like a 'cross bike but with fatter tyres and lazier all-day geometry and maybe the capability to bolt epic adventure all-day stuff to. It's all about the Epic.
Seems like lots of people have been having fun on these kinds of bikes and I just didn't know it was out there. Viva le Cross!