2015 Prudential Ride London 100
I certainly didn't expect to ever be writing about doing a ride with 25,000 or so other people round London – a sportive if you will. Sportives are generally derided by many as being full of nodders, MAMILs and people who don't know how to navigate their own route round the countryside. The other criticism levelled at these events includes the fact that people think they're pros in races, full of people with no discipline (i.e. unsafe) and they cost a fortune to enter. I've also occasionally bought into this, choosing to make fun of those less experienced, slower, fatter and overbiked with carbon dream machines and all the trimmings. Outside is free right?
Anyway, I've never done a sportive of any kind, preferring to ride by myself and plan my own routes round the local area, go on club runs with Brixton or the RCC and this year started to take part in Audax events. I also see the negativity associated with these events and the endless sneering from certain 'experienced cyclists' on Twitter. It's all pretty obnoxious, especially as some of them barely ride their bikes from what I can tell. Still it's easier to sit behind your screen making comments on others.
So earlier in the year I signed up for the Manchester to London ride and started raising money for Ambitious About Autism. I managed to hit my initial target and then found that by hitting that I would be eligible for a free place in the Ride London 100. Despite some reservations the temptation of riding closed roads and having a free entry was too much. I was in. Why not go and try and see if people's criticisms are fair.
So last Sunday I got up at 4am, met some other BCC riders at the end of the road and headed towards the Olympic Park. An ungodly hour to be up by I was due to be in a pen which closed at 5.45am with a depart of 6.10am! This pen had been set by my estimated time which I had said as being 5 hours 30 mins for 160k (100 miles). I had no idea how to estimate what this might be not having ridden on closed roads but this seemed about right.
On the way to the Olympic Park we were able to cycle through the closed Southbound Blackwall Tunnel and along the A12.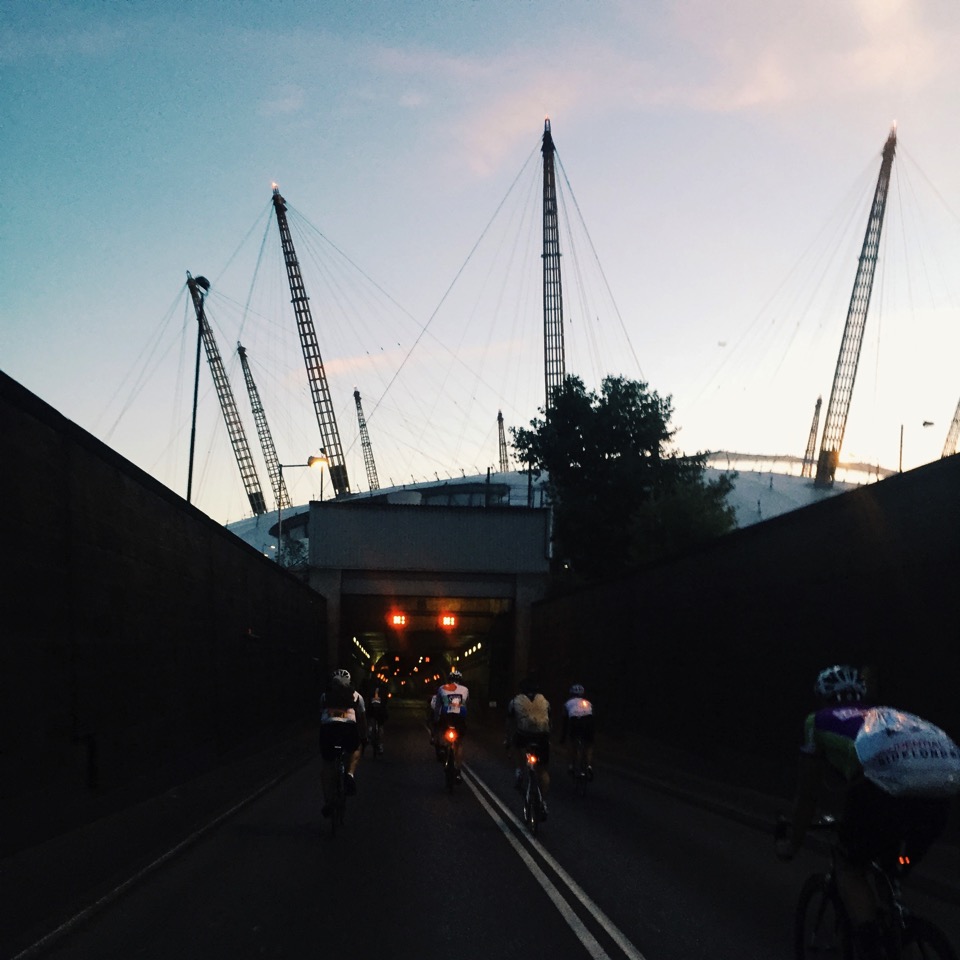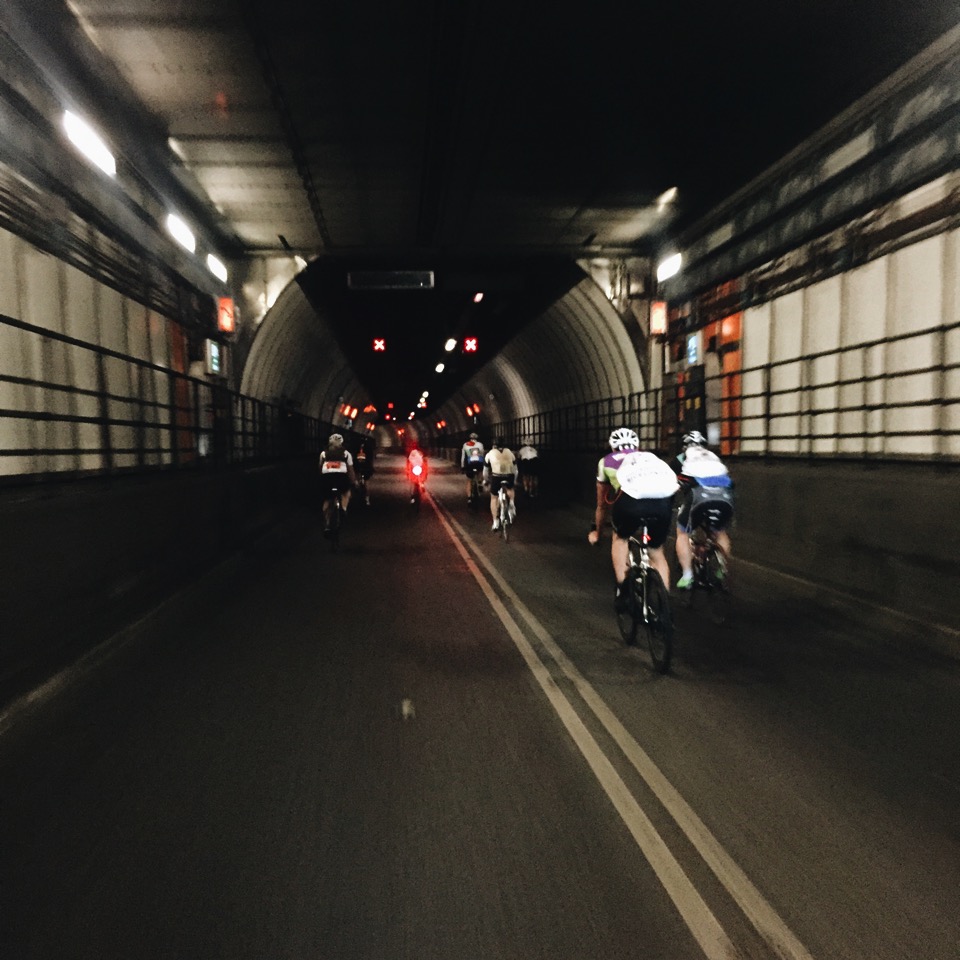 Already this felt like we were part of something pretty special. I've driven through that tunnel so many times to Cambridge to see Emma's mum but never ridden it. The sun was just starting to ride as we entered which was incredible with the Millennium Dome on the horizon. I really wanted to belt it through the tunnel for some reason. If I was only ever likely to ride it once, I was damn well going to ride it fast. It was pretty surreal riding through it, using both lanes and hammering along underground. It was hot with warm yet damp and stale air. Whilst fun it was great to see the daylight at the end and to give a quick burst to get up and out of it.
Next stop, the Olympic park with 1000's of others. Cars were parked all over the places with partners, parents and so on all helping people out with their kit and waving them off. I cycled around and found my zone. I must admit that I had been really nervous about it for the few weeks and especially the night before. Too late now though!
So here we are, sat in a pen in the Olympic Park with a bunch of other people none of whom look like they want to chat. Jacket on as I'm getting cold not moving and then the sound system and PA starts up. Dad is that you? Those jokes are terrible.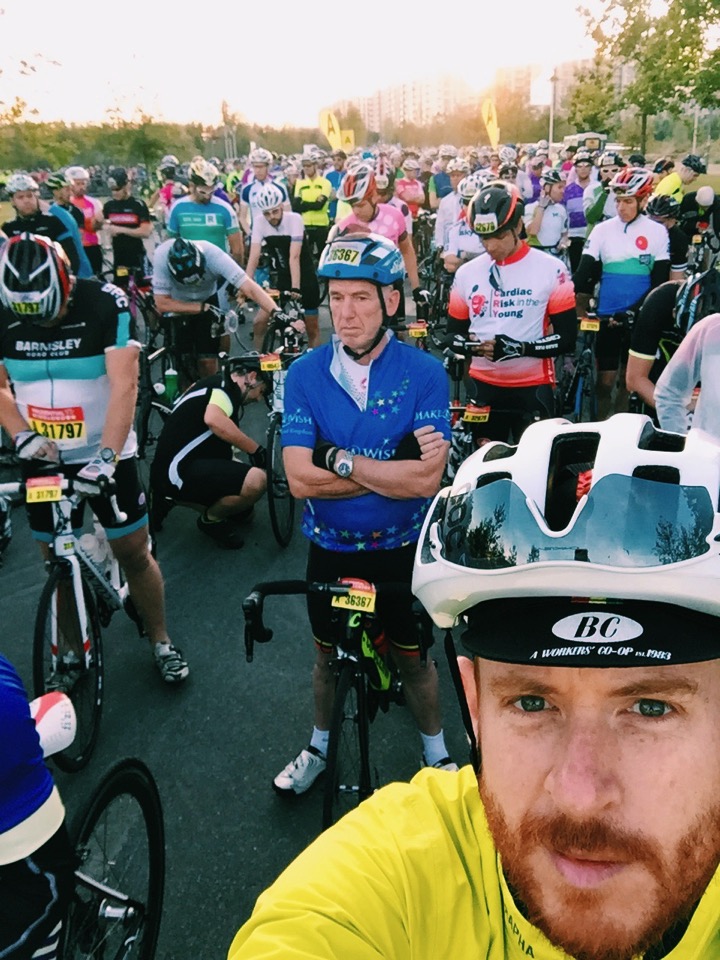 Then it's out of our holding pen and into another pen where we wait some more, moving along ever so slightly, further audibly assaulted by bad comedy and discussion of a race. Sooner or later they say it's not a race but I suspect most people want to go quite fast. There's people in lycra as far as the eye can see, predominately men, white, middle class and so on – very few women. Most people seem to have a charity jersey on which is good. Otherwise it's club kit or the full Rapha get up.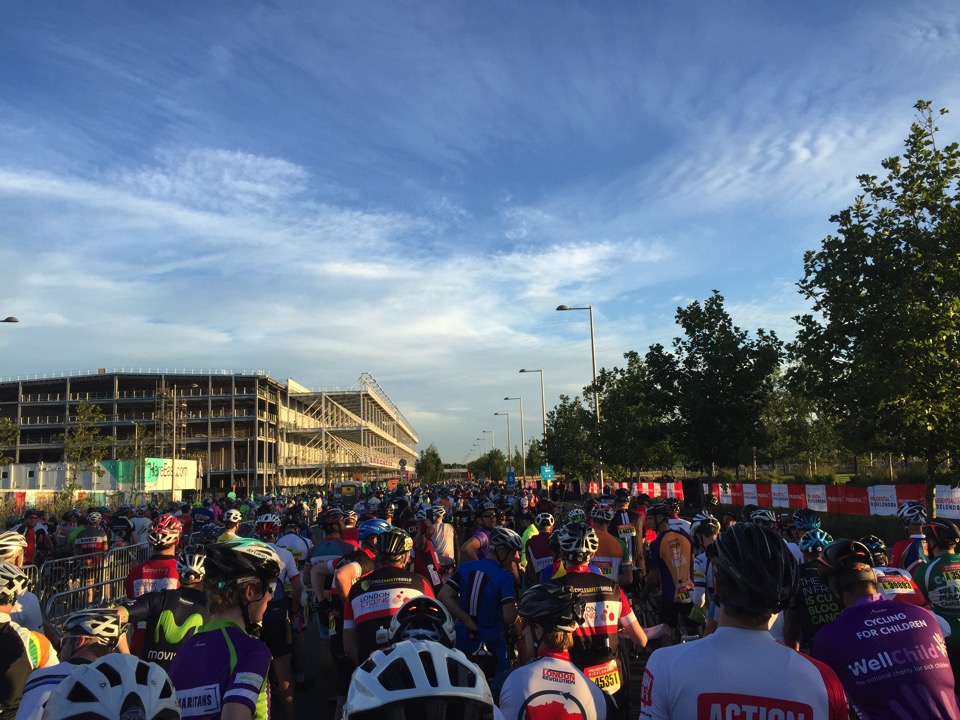 Then we're finally on our way. Click, click, click as the couple of hundred people in my pen are let loose onto the road and snap into their pedals. I try and take it easy at first as I have no idea where we're going and the standard of other riders around me. But no, this doesn't last long. I push it up a bit and see how far the group goes. I find the front of the group and get myself on this fast bunch smashing it up the dual carriageway into the Docklands and through a tunnel on my way back into the city. Heart rate is sat at 170bpm (max is 184), speed is 45-55kph. It's exhilarating and amazing to be swept along at this pace. We pass loads of people in a group of about 12 people at the most. Some people taking their turn, most not.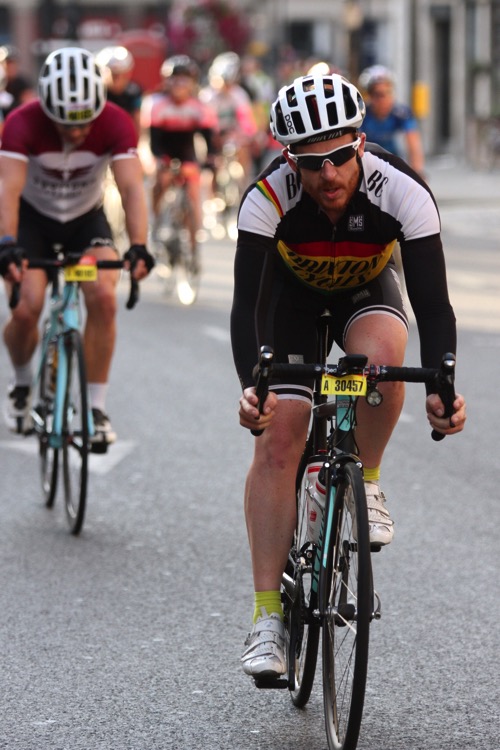 I soon realise this isn't sustainable but somehow want to hang on for as long as possible. At this speed I have a reduced awareness of my surroundings and am simply following a wheel and making sure I pick a decent line on the corners. I have a rough idea where we are but concentration takes precedent. It takes a while to get used to riding on both sides of the road and riding through red lights. That muscle memory with slowing down for the lights is hard to fight. Traffic islands appear and we shift round the right of them. We go the wrong way round roundabouts. I imagine that we look beautiful from above in some elegant formation sweeping round these concrete obstructions. The reality is probably somewhat different.
After a while I'm starting to struggle a bit and my mind starts freaking out a bit.
Not stopping at the lights, not stopping to regroup, not stopping for a chat, not stopping for a pee, not stopping for a bar, not stopping for a drink. Not stopping!
It's killing me and my heart rate is still through the roof. I really do have to slow down a bit and / or reduce my heart rate as I know I will ultimately bonk. I haven't done it for years and I really don't want to do it again. I start eating and drinking as much as I can whilst still moving. I even think how much I need that gel that I packed 'just in case'. I soon realise that it's just going to be this painful all the way round. I think back to tough rides I've done, usually anything involving Will, and then think how much harder I'm finding this knowing that I'm probably not going to stop. After the first 60k the average speed was 40kph and there's no way I could keep that up!
One of the things I started to enjoy was cornering. Swooping wide across two lanes with nice tyres on a warm day was amazing. I got more and more confident on my line although cut it a bit fine a few times but generally loved it. Descending is also a thrill on closed roads. Go as wide as you like and pick the line. As we've been in a relatively early group the roads aren't that congested with others and it's generally easy to pick past people on the right at a fair old pace.
After a while my glutes get sore as does my arms and shoulder and then my neck. I'm not too bothered about my legs being tired but the back and shoulder pain is really annoying. Being on the drops and giving it some so early has taken its toll.
Having said all this I'm still absolutely loving riding on closed roads. Mainly for the speed but just about how different it is. There's marshals everywhere keeping you on track and away from traffic islands and so on. It really does feel like you're so privileged to be there and part of a really unique experience. In my mind I was thinking of how wrong those people were on Twitter and so on. This is great, you're missing out dickheads!
The hills soon appeared with Newlands Corner being the one that sapped me the most. Leith was ok and I don't think I've ridden it before. Box Hill was fine and the tarmac on it is beautiful and it's pretty gentle. The only bit that spoilt it was the guy who decided to storm past everyone on the flat A road before almost taking out three or four riders in front of me. Apart from that I only had one other incident of poor riding and that was when I had started sharing the work with a woman called Heather from Paragon – thanks for the lift Heather. We ended up riding at the same pace for a while and agreed to work together. One guy decided he would undertake with less than 100mm between my wheel and the kerb. He got short shrift and told to go away which he promptly did.
But there was a space there.
Jesus mate, get lost and don't undertake people. There were a few more dodgy undertakes but it seemed like by setting off in one of the earlier waves that we avoided a lot of the issues of the later groups.
At the top of Box Hill I stopped at the cafe for 30 seconds to buy a bottle of energy drink. It tasted so damn good. I lost some time and the group I was with but that was the only time I stopped during the whole thing. I knew that we were on the home stretch now and started counting down the kms to get back. I ended up riding on my own a lot, or at least I thought I was. Every now and then I'd glance over and see a bunch of people sat on my wheel, none of whom seemed to want to come past and do a turn. I occasionally gave an elbow for someone to come round and do some work but it usually ended up with them blowing up and peeling off again.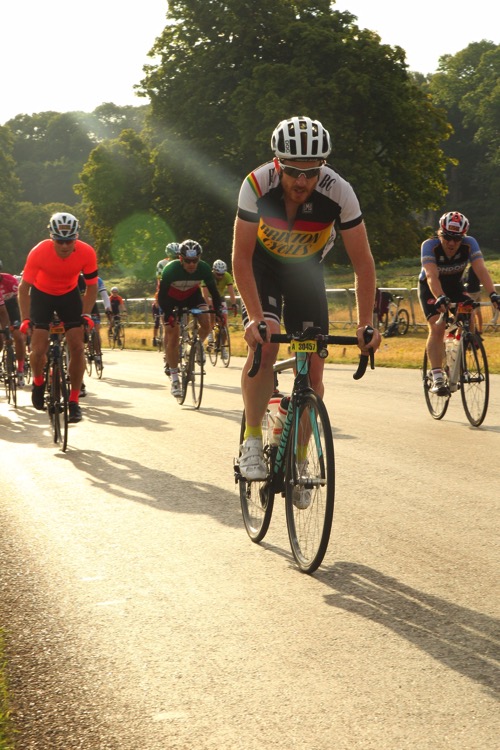 After a while I realised I could probably do it in less than the five and a half hours I had thought. I really want to do it in four and a half which looked just about achievable from what the Garmin was telling me. Coming through Kingston on the way back I saw thousands of people heading out on the main route. I hadn't quite appreciated the scale of it all but it looked like we'd had a really good start to get clear of a much more congested ride. After one last little climb up to Wimbledon it was almost over. 40k left became 30k which became 20k and so on. I knew the route back down into town and knew that it was all relatively nice tarmac too. I found myself alone again with a few sat on behind and then a load of people started flying by in groups of six or so. I upped the pace and joined on one before getting a sneaky lift to the Mall and riding up to the finish.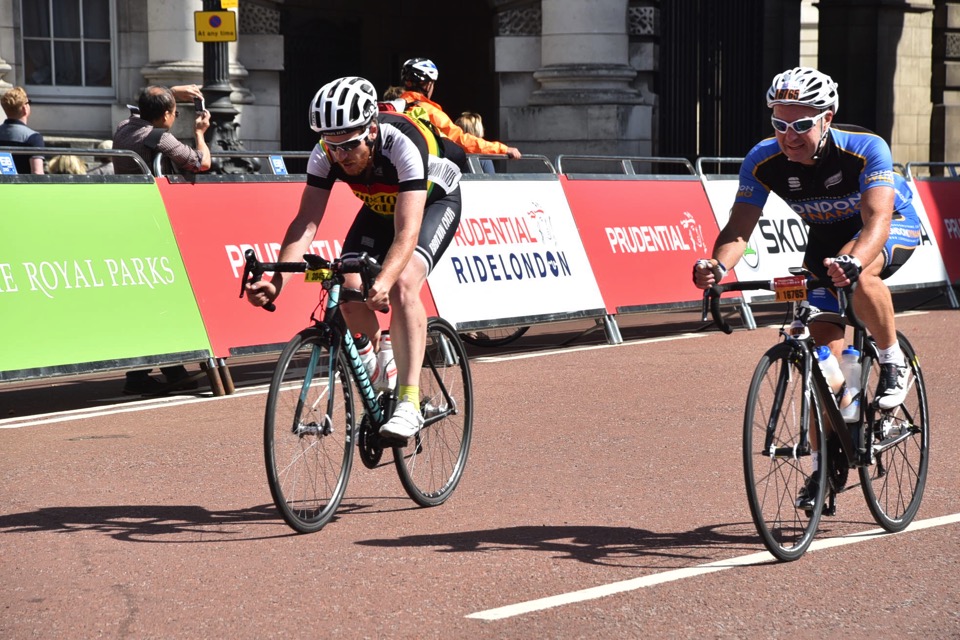 I didn't punch my fists in the air but just wanted to get done, get out of there and get some food. I met a few friends at the end and had a quick chat before heading to the Rapha Cycle Club to meet Emma and drink and eat. I was full of beans talking to Emma and still full of the endorphins rushing around my body. It really was a fantastic experience to take part in and the closed roads thing is well worth it.
Would I do the event again? Probably, but with an earlier start time to get even further clear of the masses.
Would I do another Sportive? Probably not, unless it was a closed roads event. Audax is probably more my scene for now.
I was pleased to have done it in 4 hours 30 mins and also to have ended up with an average speed of 36kph which is by far the most intense / fastest ride I've ever done.
To recover we got a taxi home – yes I couldn't face cycling. We then got Pizza in Herne Hill and retired to Canopy Beer for the afternoon. Probably not the choice of Team Sky but the IPA at Canopy is delicious.