Bike packing / USB power on the cheap
I've been getting on with some Dunwich prep this week. Last year I just rode it and left a load of stuff in the van for when I got there but this year it's the double. With this in mind and some of the audax stuff I've done recently and dreams of longer rides I've done loads of research on the subject and as usual I write these kind of posts as someone out there will find it useful.
The first issue is carrying stuff. One of the joys of getting into road riding was ditching the Camelback. Just riding with a few essentials is great, but then the longer you ride the more crap you tend to want to take. A jacket, a gilet, some arm warmers, some food, emergency gels, tools etc. It all adds up. In the world of audax the carradice bag is king although it's not quite my style. I want something a bit more compact and designed for a bit more speed perhaps. Enter bike packing which is the idea of packing lightly and essentially using your frame to support a variety of bags. Frame bags, saddle bags, bar bags and the unfashionable top tube bag. It's lighter and puts less direct pressure on the rear wheel meaning less chance of snapping spokes. As usual BikeSnob NYC has the low down.
So is "bikepacking" basically bike touring for bros?

— Bike Snob NYC (@bikesnobnyc) June 16, 2015
So I went with one of the Alpkit Koala saddle bags as I think it's more than enough for up to a 600k audax and then maybe add a bar bag for longer ones perhaps. I hadn't really thought that Dunwich and back would need that much stuff, but by the time you list it all out it does start to add up. A change of bib shorts is a bit of a luxury but why not.
I stuffed all the things I was going to take into it today and used it to commute to work along with my usual stuff. It felt pretty good although was a bit weird riding with a big lump of weight at the back. I took it easy this morning until I got comfortable with it. That was until I forgot about it, got out of the saddle and started giving it some over Waterloo Bridge. Wooah, that's a bit weird. I sat down pretty quick after that!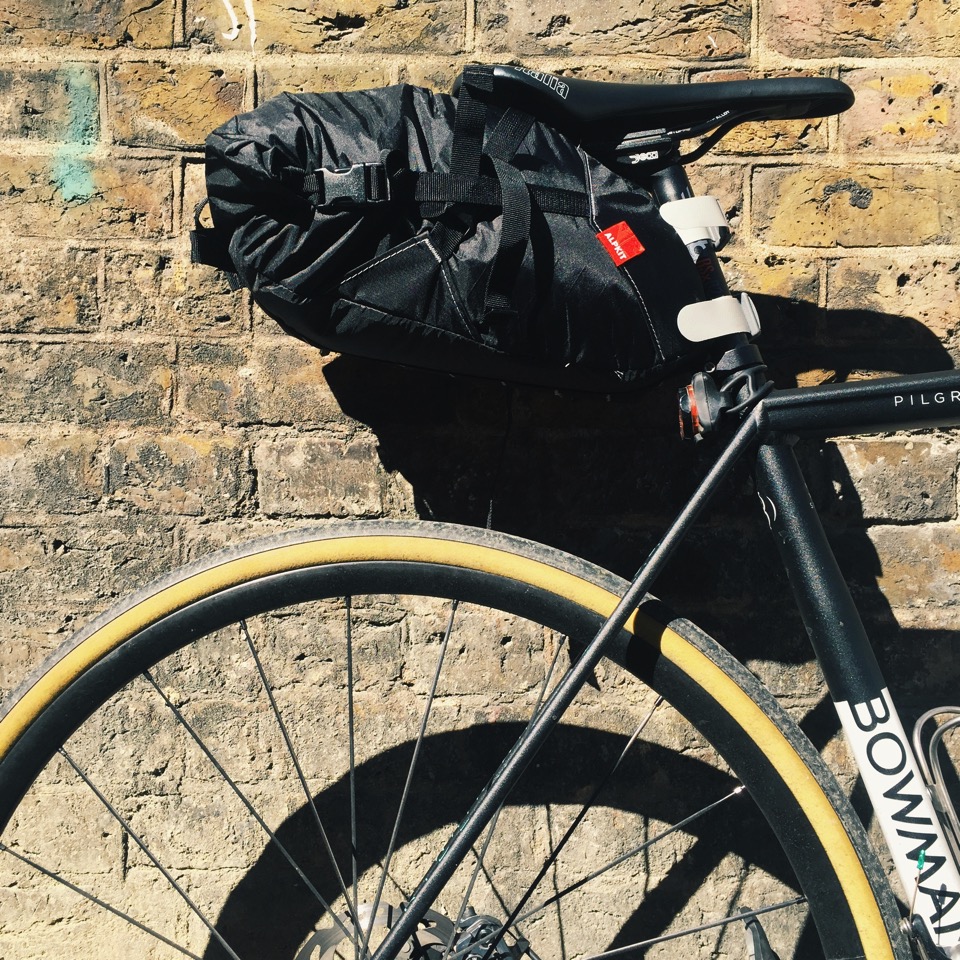 However it all works pretty well and I think it's going to be just the job!
Next up, power. Garmin, lights, phone etc. They all need power to make them last for a long ride – and stopping at Starbucks and pinching a socket for a bit is not an option. Whilst the audax old timers will shout"book, use a map and the directions" I like using technology and the ability to keep moving at a decent pace, not racing, but not hanging about either. The latest thing is to run a Dynamo hub and then run that power to a USB stem cap as well as sometimes a little battery cache. There are two problems with this though. It's eye-wateringly expensive and it's heavier than a normal hub as well as adding some resistance. For a decent front hub you're looking at around £300 plus another £150 for some form of USB adaptor and maybe another £150 for a dedicated light from it. It's all top notch stuff but for now I have gone with the slightly more ghetto option. A USB charger or two from eBay. At only £3.99 each they're a bargain and come in the architects favourite colour – black. They have plenty of power to keep a Garmin charged. I've got 200k out of a battery charge from the unit itself before so this should easily take it to 600k or more. I've also made a USB power only cable and tried the whole thing out tonight. I also wanted to extend the life of my Exposure Diablo light which almost lasted the whole way but I'd like to keep it topped up so I could use it on a higher power setting. I even sliced open one of the USE charging cables and shortened that too.
So I've mounted two of these these things on my stem and now have power! It's ugly as sin and looks like a Navy Seal's rifle but it kind of works. The thing that annoys me the most is that I have to use a different Garmin mount to get the unit higher to get the USB connector in. Again, ugly but it works. And at about £8 it's fine for now.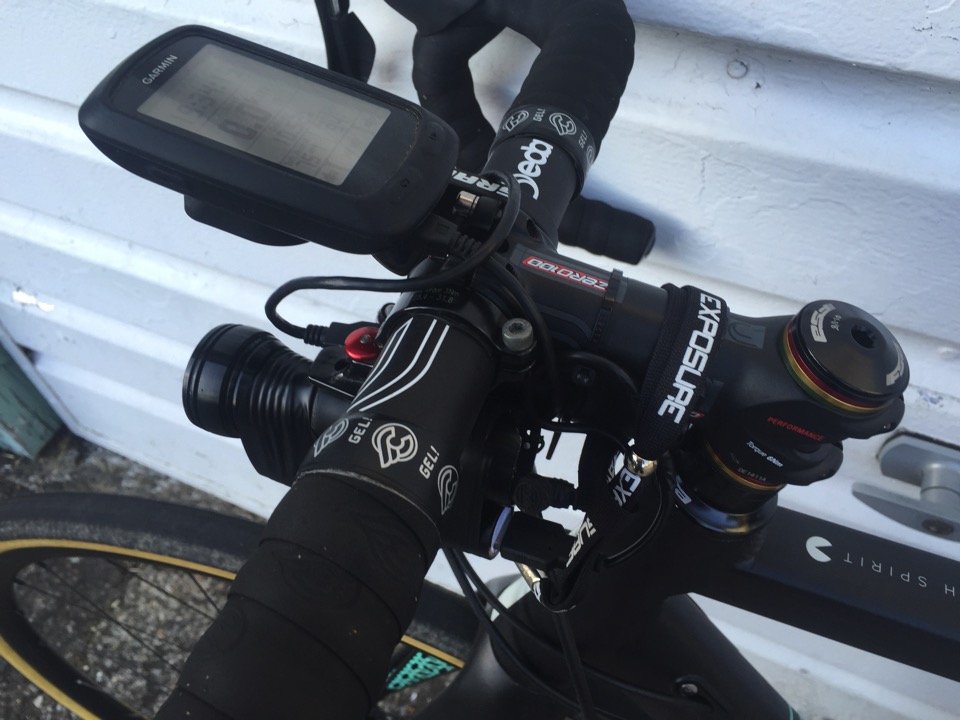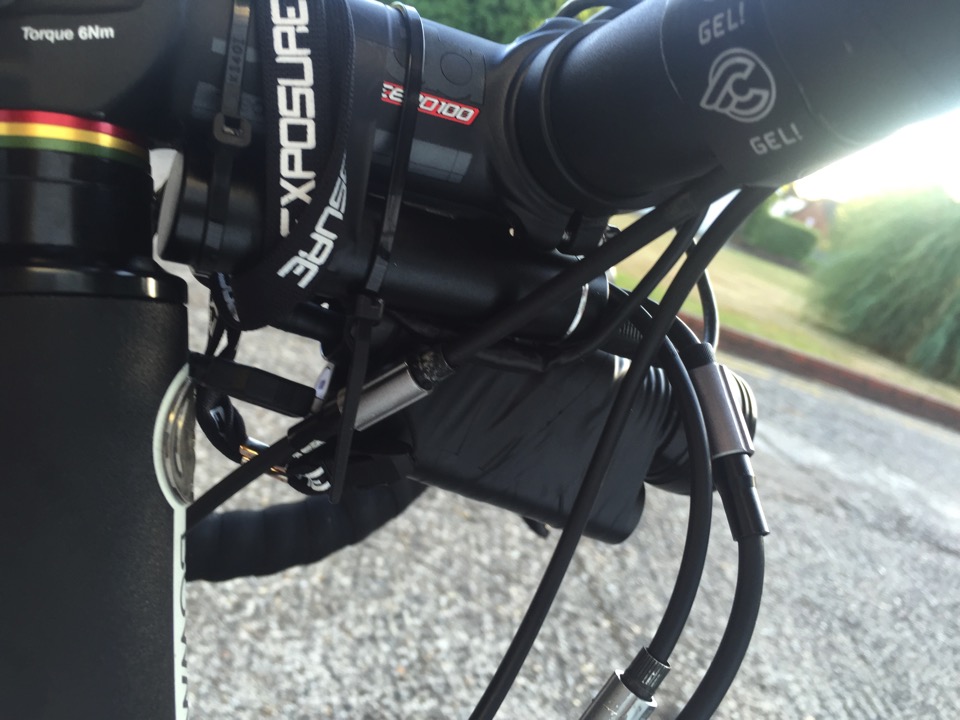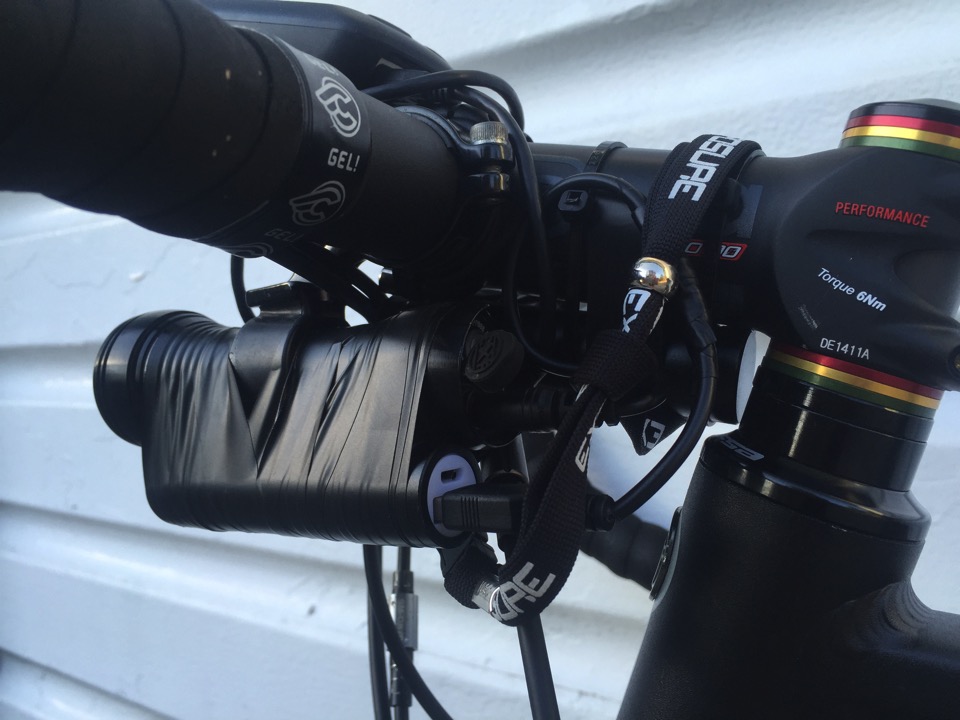 I told you it wasn't pretty. I guess I need to get used to this view for Sat. Can't wait.