88k around Bath
It's good to see that this blog has become more bikes than things at the moment. I've been out every Sunday for at least the last 8 weeks now and starting to get fitter as a result. The last few weekends have been on the 40k trail around Surrey which has been great and feels like you've had a proper ride.
I still struggle with the idea of going out for a road ride at the weekend when the trails are there to be ridden on the mountainbike. As I have tomorrow off in lieu and am in Bath to see my mum I thought I'd try and break the habit and do some riding around the local area. I also had a ride planned to Wales for the Monday so technically I was still going mountain biking this weekend.
I plotted a route out of Mum's house that I thought would be good and not too epic as well as trying to follow as many back roads as possible. I dragged myself out fuelled by coffee and a massive bowl of porridge. I also had it in the back of my mind that I would have to face Landsdown Hill to get out of Bath and out to the other side of my planned route. It started off well and I seemed to be keeping a reasonable pace. I did think better of leaving the overshoes at home though as the temperature dropped. It was great riding without a rucksack and just tucking all the necessary bits in the back of my jacket.
Neston, Atworth, Stonor School, Great Chalford and then ended up on a horrid B road heading towards Bradford-on-Avon. It didn't look too bad when I planned it but wish I'd followed the club ride off it. It was then up to Hinton Charterhouse and along some nice small backroads through Limpley Stoke. I noticed the back wheel was slipping a bit on the climbs when out of the saddle a bit so had to sit down on most. I didn't feel too bad on the climbs which was hopefully due to the last few weekends in the hills. Then it was over past Ralph Allen school and down into Widcome to get round the one way and over the bridge.
I was going round the corner to get over the river when suddenly I hit the deck. Both wheels went out from underneath me and I smashed the side of my head, shoulder, hip and tore a nice hole in my new tights in the knee area. I also trashed a few components on my bike. Fortunately the coach driver behind me was paying attention and stopped in time. I picked myself up and a nice couple came to see if I was ok. Pride damaged and unsure if the bike was working I got myself together. I had to bend the mech back to avoid it going in the spokes at the lowest gear but carried on. The main issue was getting out of the saddle for hills as my shoulder was in a bit of pain.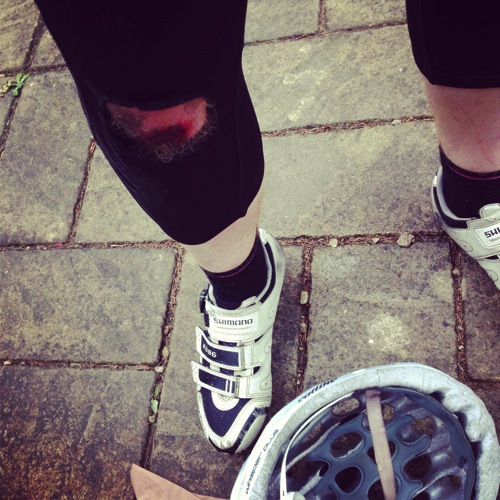 To my surprise I managed Landsdown Hill and up onto the horrid road at the top which I had forgotten all about. I then found a tea shop for hot chocolate and some water. Then I headed off round Hartham Park and onto some lovely back roads and through lots of pretty villages, all with their churches and small greens. Head further North I was riding along an open stretch when I passed a single tree. A massive bird of prey flew out and glided in front of me for a while before sweeping off to the left and landing in the field. It can't have been more than a metre in front of me. Not the kind of experience you would ever have in London!
As I turned one of the corners I said good morning to a guy in an orange jacket and caught a look at his face. It turned out to be my friend Piers! How strange to come all this way and bump in to people in the middle of nowhere. We had a quick chat and then went on our way.
One of the things I was looking forward to was the two crossings over the M4. The first was up a muddy road which was more mountain biking than road riding but provided a nice spot for a break and a bite to eat.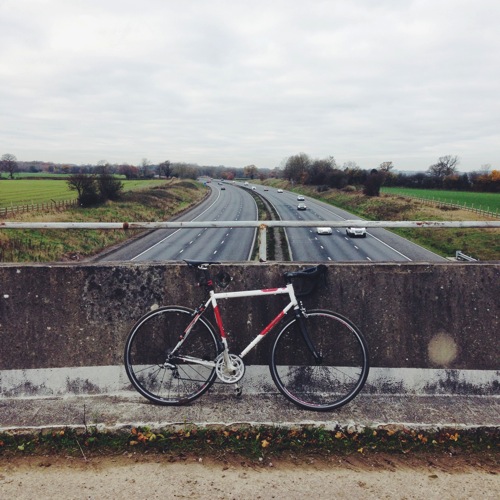 There's something quite peaceful about being above all those people rushing to get somewhere with just your bike and thoughts for company. Sometimes when I'm driving I wonder who is on those bridges and how you get there. Now I know.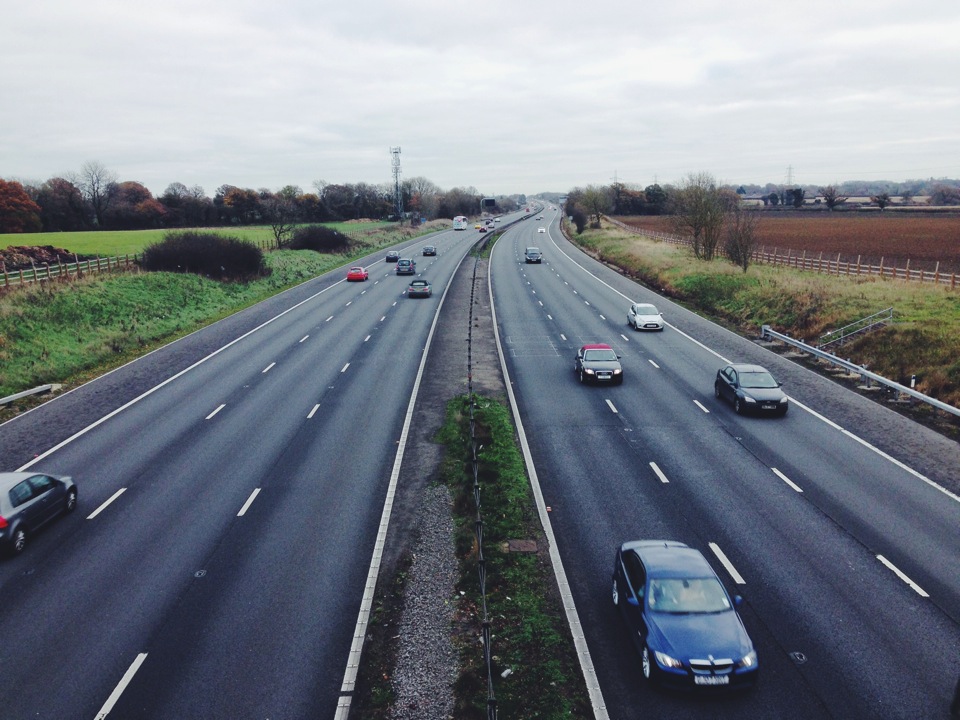 After that it was head down to get back. The last 10k was pretty horrid but I managed to stop at a garage and fill myself with a Yorkie, Haribo and an energy drink to get me home in a reasonable state. The vital stats of the day include 87.6km riding, 1,250m climbing, 3:32:29 actual riding time and 2,462 calories. Surprisingly I really enjoyed the ride, not withstanding the off, but it did make me think about getting ready for LEJOG. Having to do more than that every day for 10 days is going to be hard, but then there will be longer during the day to do it.
So I got the final bill.
Gear Shifters – Shimano Sora – £159.99
Fizik Handlebar Tape £12.99
Rear Derailleur – Shimano Tiagra – £34.99
Outer Chainring £29.99
Endura Bib ¾ Tights – £75.99
Catlike Whisper Helmet -£99.99

Total cost including labour £478.94
Worth having insurance but being off the bike for two weeks is driving me up the wall.