Flickr gets a second go at being awesome
A while ago I wrote a bitchy post about Flickr bemoaning it's lack of development in recent years. Following that I was contacted by a member of the Flickr team saying the following (slightly paraphrased).
Hope this finds you well. We saw your blog post about the new Flickr t-shirts and I'd love to send you one… Keep your eyes peeled for more from us. Thanks for your enthusiasm
I kind of poo-poohed this at the time but thought, hey a free t-shirt, why not? Then they released their new iPhone app fulfilling pretty much all of my requested features – most importantly of which is the notifications of new activity on your photo stream. So you can actually respond and engage with these rather than respond two weeks later when you remember to log in.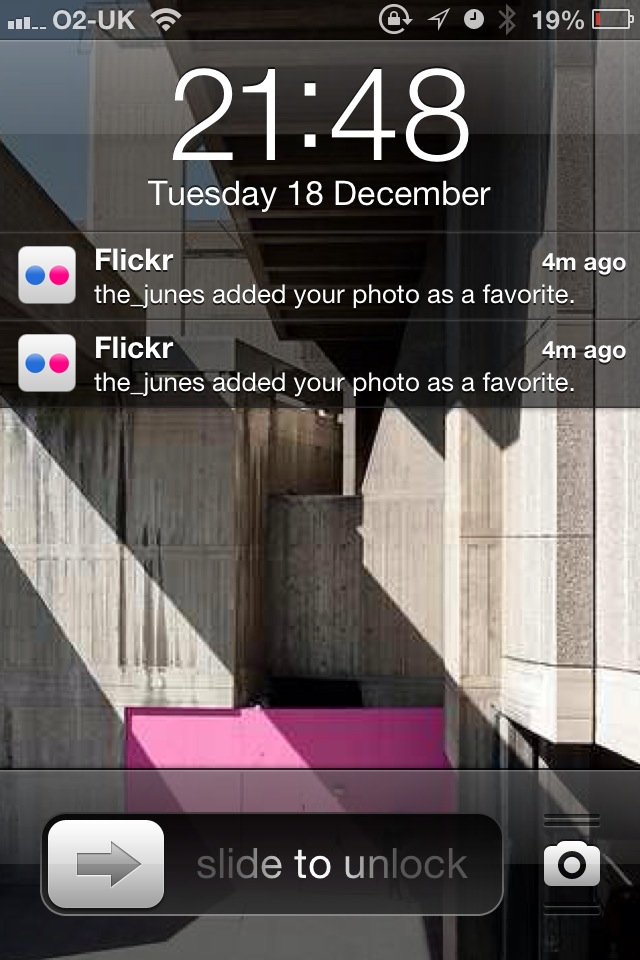 But yes my post was driven from frustration but also enthusiasm for the platform and the work that gets posted there. It seemed like it was drifting into irrelevance. However the release of the app seems to have changed that as it gives people an easy and intuitive way of engaging with content on their mobile devices iPhones. Yes they also released a set of image filters you can use when you upload to Flickr which various people bitched about, Twitter released similar filters with their app around about the same time, but I don't think this is the key feature of the app. The filters don't really interest me as I don't upload those kind of shots there, even though I'm addicted to Instagram.
The layout and design of it is superb, just large enough to see decent quality images but not so big that you can't see what's next. Vertical scrolling through your contacts and then sideways to see what else they have if one of their images takes your fancy. Very nicely done. I've often wondered why this sideways scrolling wasn't in Instagram. There's even more nice things to find and they've done a little blog post pointing out some of the less obvious features.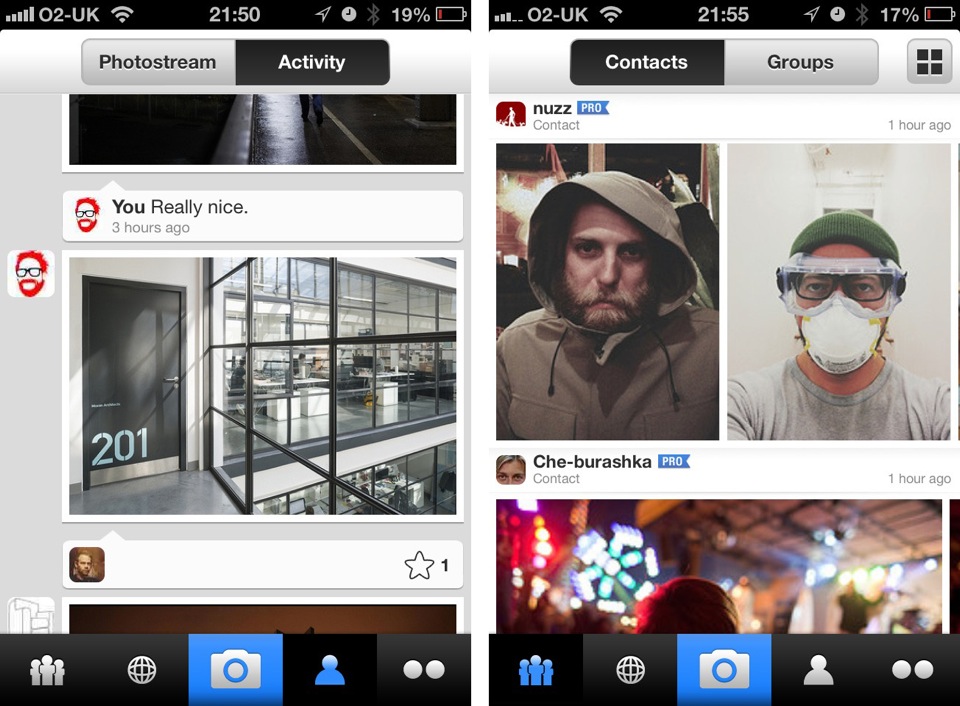 One of the nicest is the ability to search other networks for people – I found about 60 people who I didn't know were on Flickr. The personal homepage is also pretty decent too.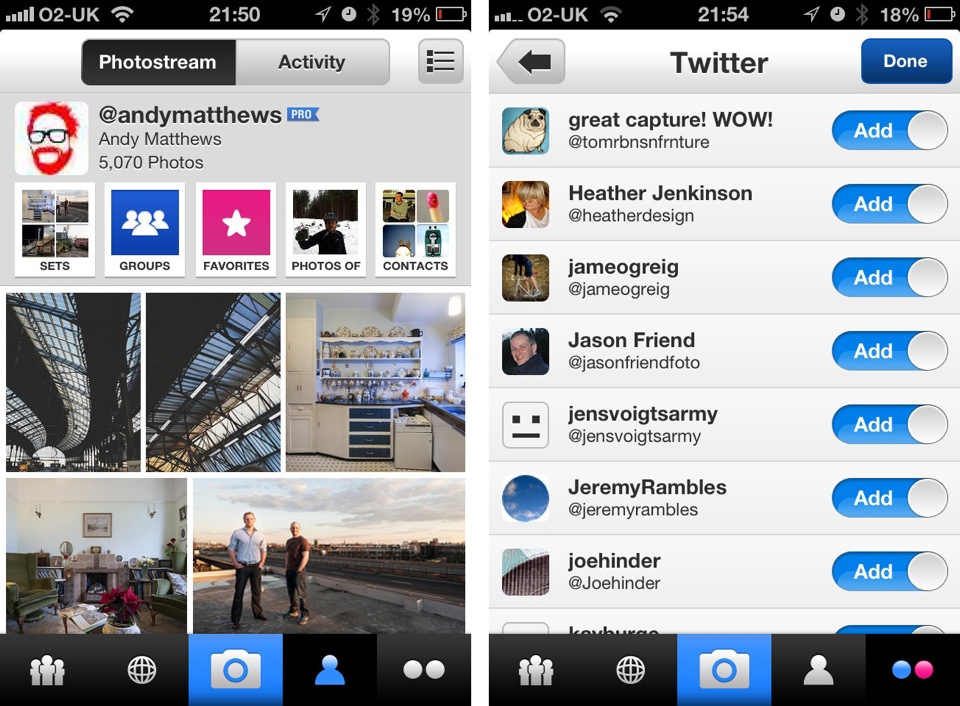 For a while though the biggest problem with Flickr was that it was seemingly irrelevant. It just wasn't talked about. No articles were written about it in the tech press, even the ones about it dying a death stopped a while back. It didn't arouse any excitement, people didn't renew their subscriptions or if they did then just used it as bulk storage for shots from other services such as Instagram.
But then something weird happened a few days ago. Instagram changed their terms of service…
Some or all of the Service may be supported by advertising revenue. To help us deliver interesting paid or sponsored content or promotions, you agree that a business or other entity may pay us to display your username, likeness, photos (along with any associated metadata), and/or actions you take, in connection with paid or sponsored content or promotions, without any compensation to you.
The change in terms essentially aligns a little closer to what Facebook has always had. They pretty much own any content you post there which is all a bit creepy. Anyway the change in terms has built up into the end of the world for some on Twitter – the Mayans and their end of the world have been completely out done this time. There's been a great deal of furore with people even deleting their accounts so that they can't have their images "sold" or "monetised" obviously completely missing the point that most images on Instagram are utter shite – many of mine included. Many have also reminded people that – if you're not paying for it you are the product which is kind of true, but then most people don't expect the pics of their cat to be sold on to someone else.
What has further transpired is that Instagram don't own your images more than any other service and have rushed out a blog post to try and calm the storm.
Instagram users own their content and Instagram does not claim any ownership rights over your photos. Nothing about this has changed. We respect that there are creative artists and hobbyists alike that pour their heart into creating beautiful photos, and we respect that your photos are your photos. Period*.
*I hate it when American's say period, it's FULL STOP.
So, the net benefit for Flickr? Well it's suddenly become relevant again and the timing of this couldn't have been more perfect for them. All sorts of people have been posting about trying to find their password to login to the site after not going there in years. I'm seeing lots more activity and more people adding me as a contact as well as generally being more active there. It's hard to say whether it'll be the mass migration that will make it as popular as Instagram but the interface is there in the app (and filters) so we'll see but early signs seem to be promising.
It's kind of exciting to see a platform come alive again as I don't think I've really seen that before. Most just wither and die and don't really ever get a second chance – MySpace anyone? Fingers crossed they don't squander it and keep investing in it.
And finally, have I deleted my Instagram account? No, not yet as I have a decent network of followers (and followees?) there. But I am starting to look at uploading more things to Flickr via VSCO Cam which has a nicer set of more subtle filters. I've left an image on Instagram pointing people to my Flickr and hope that takes off a bit more.
I used to be very strict on not uploading iPhone shots as I didn't see it as proper photography. As the camera has got better the lines seem to have blurred slightly. Here's an old shot re-worked in VSCO Cam which is along the lines of what I intend to upload in the future. Unfortunately VSCO Cam doesn't have native Flickr uploading built in but you can email directly to Flickr from the app instead to do an upload to avoid using two apps. Got to yout settings in Flickr to find your own upload email.
You got a second chance Flickr, please don't screw it up.
Updated:
It seems like they're on a bit of a roll. Loads more activity on my stream and then this nice email arrived this morning. Free three months for everyone.