Dawson Heights photo shoot
A little while back I modelled rode down a grassy hill a few times for Daniel in front of the wonderful Dawson Heights in sunny South London. Daniel was shooting a double page spread for the LCC for two bikes that had been reviewed but his idea was to set them in a more urban context.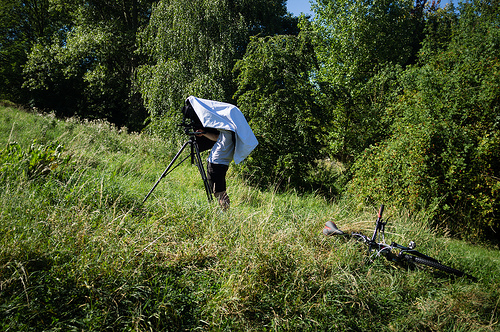 Daniel hard at work.
Having seen Neil do cycling shoots before I brought some box fresh shoes, some bright clothing and a few different colours in case. Having put my new shoes (with new cleats) on, I cycled to the top of the hill, turned the corner and was locked in. I took the full force of the fall on my knee which hurt like hell. It also took me a while to realise it was a 29er. I thought it looked a bit odd. It was a bit of a beast of a bike but I was quite taken with the larger wheels.
We picked a line, Daniel set up the 5×4, checked the exposure, checked the exposure again and then I rode it. I think I must have ridden it at least 15 times, checking the spot, poking the elbows out more, looking like I as enjoying the ride. As it was film we were a little more cautious about dropping the shutter.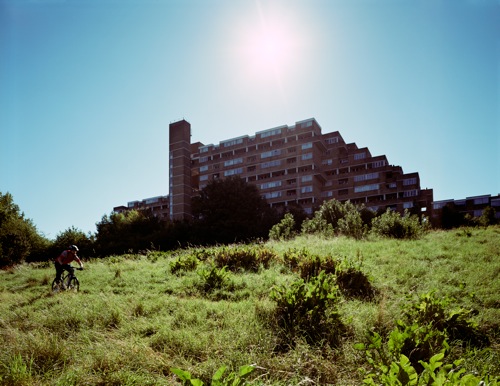 The final shot © Daniel Hewitt.
And the magazine spread which arrived on my mat a few days ago. Shame the credit was so discrete for Daniel though as it's a nice little bit of publicity. Took me ages to find it!