Manufactured landscapes
I had the pleasure of seeing the Manufactured Landscapes film by Ed Burtynsky at the Tate Modern this week with Daniel. I hadn't seen it before so it was great to see it properly on a decent screen. The opening shot is just so infinite and sets the scale for what is about to be shown in the rest of the film. The work is incredibly well shot and edited and the commentary is just about right. Plenty of silence to think about your thoughts between sections. It's kind of harrowing but also beautiful at the same time which is confusing as hell. The way some of the prints are represented by a sharp detail on an individual which then pans out to reveal the sheer scale of the image really does sell the intensity of the work.
Whilst I enjoyed all of the work this image jumped out at me. The small 500px version below doesn't really do it justice. Really looking forward to seeing the prints up close at the Photographers Gallery.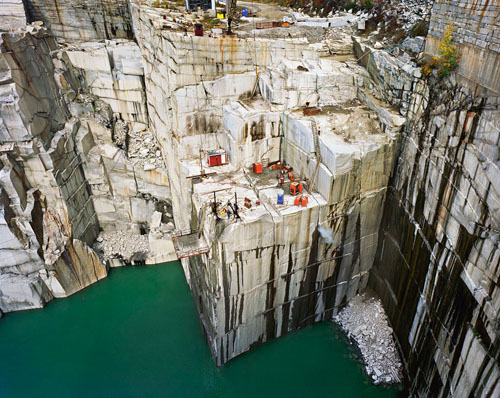 Image © Ed Burtynysky – Rock of Ages # 7, Active Section, E.L. Smith Quarry, Barre, Vermont, 1991.
The Q&A with him after was incredibly revealing. He talked about the way he had become an environmental campaigner rather than a photographer. There were also some great questions about the issue of making a difficult subject intensely beautiful and whether it detracted from the intended impact of the image. The other question was to do with the potential limited audience of his work through essentially discussing these issues with those who already are aware of them and how he intended to gain a wider audience. His answers were in depth and to the point but also well elaborated. Seems like a super intelligent chap.
Thoroughly enjoyable.

Image © Ed Burtynysky – Manufacturing #10A and 10B, Cankun Factory, Xiamen City, 2005.